New York's homeless stuck between the government and residents
STEPHON JOHNSON | 10/27/2016, 10:14 a.m.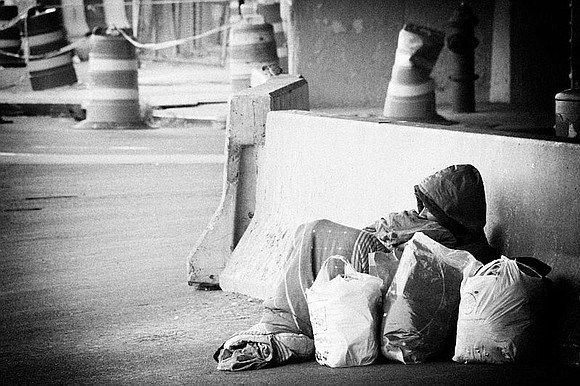 Terraine is the mother of a 17-year-old son. She is a veteran. She has been homeless since May of 2015. She has stayed in temporary locations and shelters in every borough except Staten Island, and she has spent a few of those months on the street sleeping in her truck. During the warm weather months, she sells nonalcoholic beverages in front of the Brooklyn Public Library location at Grand Army Plaza. This year should've been a great year for her business.
"Because of homelessness, I couldn't take advantage of this nice weather," she told the AmNews.
Some elected officials and advocates hope to turn the tide for New Yorkers such as Terraine.
Last week, New York City Council Member Ydanis Rodríguez held a rally in Inwood. With New York State Sen. Adriano Espaillat, New York State Assembly candidate Carmen De La Rosa and members of Picture the Homeless at his side, Rodríguez wanted to highlight the abundance of empty lots and vacant apartments in the city.
Rodríguez believes that landlords are sitting on these empty apartments and preventing people from finding a place to live.
"This a matter of safety issue," said Rodríguez at the rally. "This is a matter of health issues. This is a matter about protecting our working class and our middle class."
Rodríguez has looked to address the housing issue head on. Working with fellow Council Member Jumaane Williams and New York City Public Advocate Letitia James, he has co-sponsored a package of bills known as the "Housing Not Warehousing Act." These bills will make it so that the city must count all vacant land and property annually (something that Picture the Homeless does on its own), owners must register properties as vacant or face fines and owners must keep a list of vacancies to determine which ones are conducive to developing affordable housing.
These developments can't come soon enough for homeless New Yorkers who have to tolerate the shelter system in order to have a roof over their heads.
"We have respiratory illnesses," said Terraine when speaking about her and her son's plight. "And the conditions of the places they sent us were so dirty and filthy. Then there was the violence, the threats and the sexual harassment. Some of the people who live in the neighborhoods these shelters are in? They have nice dogs. I know these wouldn't let their dogs live in these shelters."
One recent city initiative that has drawn the ire of residents is housing the homeless in hotels in certain neighborhoods. In Queens, in particular, residents in Maspeth and Elmhurst have had multiple rallies, protests and hearings to voice their opposition to the city's actions.
Last month, Maspeth residents marched to the home of Harshad Patel (who owns the Holiday Inn Express in Maspeth) to protest "warehousing" the homeless on his property and in their neighborhoods. The following month, Maspeth residents linked up with residents from Elmhurst and community groups in Sunset Park, Brooklyn, to rally outside of a Brooklyn hotel that "warehoused" the homeless.