Tapping into Hop House
Kysha Harris | 10/27/2016, 11:43 a.m.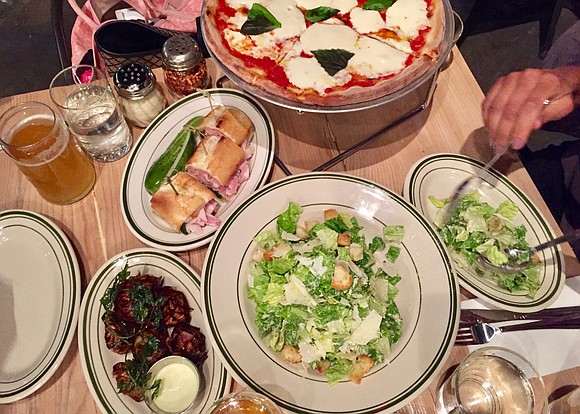 A couple of Harlem friends and I decided a "catch up" was desperately needed—nothing too fussy, something local. We settled on Hop House (2224 Frederick Douglass Blvd., 646-858-0252, www.hophouseharlem.com).
Hop House is the new permutation on the southeast corner of 120th Street, formerly Bad Horse Pizza. The redesigned interior changes Italian from rustic tavern to modern pub with metal chairs, wood tabletops, communal table and bar of reclaimed wood. The space is finished with black and white photos of the city, and shipping pallets are used to house the live back wall of plants.
I arrived to one of my crew sampling beers at the bar from the all made-in-New-York on tap list to determine what she would order. I joined in and offered my recommendation and gushed over Hop House's branded cheeky pint glasses in the shape of a beverage can.
We nestled into our table and decided to share a couple of plates of food from across the menu, starting with fried baby artichokes with garlic aioli and spicy Caesar salad. The artichokes were nicely fried, although a little woody for my taste. The salad was spicy indeed and a nice change from a traditional Caesar.
Next on our table had to be their classic pizza with tomato, mozzarella and basil, just to see what they are made of, and their version of a porchetta sandwich. The pizza was respectable, but not my first choice in the neighborhood. I did love their "ham sandwich" with spicy broccoli rabe and provolone cheese, but unctuous slow-roasted seasoned pork roulade, aka porchetta, it was not.
We ended with a huge hot chocolate chip cookie finished with Maldon sea salt. It was delicious, fun to share and just one of the reasons to return to Hop House.
Welcome to Harlem!