Trio 3, American Slave Coast, Zora Neale Hurston
Ron Scott | 10/27/2016, 9:48 a.m.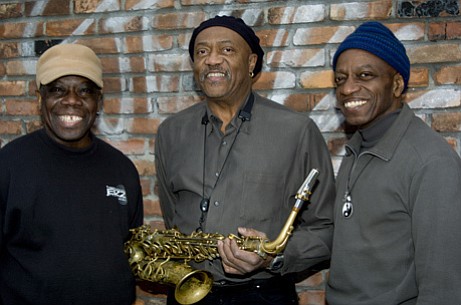 Regardless of what production arrives this season, there will be none better, thanks to the phenomenal performance of Elizabeth Van Dyke as Hurston. Van Dyke encompasses the heart and soul of her character. You smile when she is witty and sassy, or feel the tension as she speaks out in protest or quarrels with Hughes.
Van Dyke is brilliantly supported by Joseph Lewis Edwards, who convincingly captures the essence of his three characters: Langston Hughes, Richard Wright and Alain Locke, the writer, philosopher, professor and chairman of Philosophy Department of Howard University, and given credit in some circles as the "dean of the Harlem Renaissance."
Edwards brings a distinct personality to each character from the even tempered and sometimes jovial Hughes to the intellectual snobbishness of Locke. Appearing on the stage intermittently, his timing is perfect. Like a jazz duet their interactive flow is intuitive. Van Dyke, who stays on the stage throughout is the anchor, like a John Coltrane solo, she is flawless.
The play takes place in 1949 on Christmas Eve in a New York City bus station. Hurston has just purchased a ticket and is awaiting a bus to her Florida destination.
While waiting, Hurston takes us through the valley of her intensified life. As her books such as "Their Eyes Were Watching God" inform us, no one could tell a better story as a folklorist.
She began with her days in Florida and swiftly moves to being a student at Howard University, where she meets Hughes, and then to New York to attend Barnard College, where she was the only Black student.
Van Dyke becomes an explosive keg as she recalls Hurston being falsely accused of molesting a 10-year-old boy. That scene is sheer dynamite. The audience can see the anger in her tears, hear her agitated vocal vibrations. The outrage, the audacity to accuse a woman of such prominence.
Black productions entertain and inspire and are Black history appetizers. "Zora Neale Hurston" is at the zenith of importance and acting ability. Witnessing Van Dyke as Hurston will become one of those noted theater history moments.
The play was written by Laurence Holder and directed by Woodie King Jr., founder of the New Federal Theatre. For tickets or information, call 212-941-5800. Performances are Thursday-Saturday, 8 p.m., and Matinees are Saturday and Sunday, 2:30 p.m.