Woman accuses Clarence Thomas of groping her in 1999
Daniella Diaz, CNN | 10/28/2016, 10:44 a.m.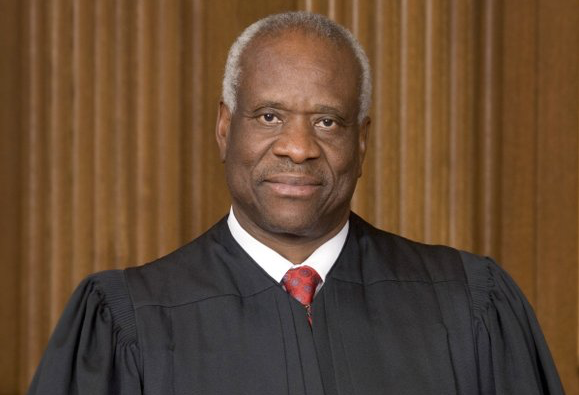 WASHINGTON (CNN) -- A woman has accused Supreme Court Justice Clarence Thomas of groping her in 1999, when she met him as a young Truman Foundation Scholar at a dinner party in Falls Church, Virginia.
On October 7, Moira Smith posted on Facebook -- her account is now deactivated -- that Thomas groped her at her boss' dinner party when she was 23. "He groped me while I was setting the table, suggesting I should sit 'right next to him,'" Smith wrote, according to the post as reported by the National Law Journal.
The Supreme Court declined to comment to CNN, pointing to a Thomas statement it provided the National Law Journal: "This claim is preposterous and it never happened."
Smith, who is now vice president and general counsel to Enstar Natural Gas Co., did not immediately respond to a request for comment from CNN. Laura Fink, a friend and former roommate of Smith, issued a statement to CNN on behalf of Smith saying that she stands by her allegations.
"I choose to speak out now in the hope that this will change; that my daughter will live never having to experience these wrongs, and so that both my children might experience a world where no one is above reproach or justice," Smith wrote in the statement.
Smith's accusation
Smith wrote about her experience on Facebook in the wake of Donald Trump's 2005 hot mic conversation -- which was leaked the day she published her post -- where the Republican nominee bragged about being able to grope women because he is a celebrity.
"Donald Trump said when you're a star, they let you do it; you can do anything," Smith told the National Law Journal. "The idea that we as victims let them do it made me mad. Sure enough, Justice Thomas did it with I think an implicit pact of silence that I would be so flattered and star-struck and surprised that I wouldn't say anything. I played the chump. I didn't say anything."
Smith recounted her story to National Law Journal about the night with Thomas. She said she was alone with him at one point during the dinner party, which is when he groped her.
"I was setting the place to his right when he reached out, sort of cupped his hand around my butt and pulled me pretty close to him," Smith said in the interview. "He said, 'Where are you sitting?' and gave me a squeeze. I said, 'I'm sitting down at the garden table.' He said, 'I think you should sit next to me,' giving me squeezes. I said, 'Well, Mr. Blair is pretty particular about his seating chart.' I tried to use the seating chart as a pretext for refusing. He one more time squeezed my butt and he said, 'Are you sure?' I said yes, and that was the end of it."
Three of Smith's former housemates during the spring and summer of 1999 each verified in interviews with the National Law Journal that they remember Smith telling them about Thomas groping her.