Garvey's son asks Obama for father's posthumous pardon
AUTODIDACT 17 | 9/1/2016, 1:13 p.m.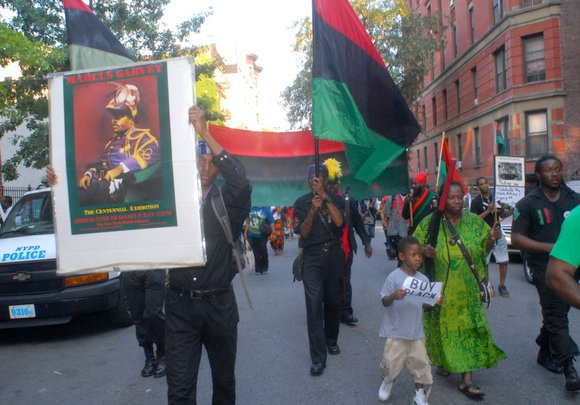 This past Aug. 17., Dr. Julius Garvey led a campaign to have his famous father's name cleared for an unjust mail fraud conviction by urging the United States' first Americanized-African president to posthumously pardon him. Accompanied by several grassroots activists and supporters, he utilized the 129th anniversary of Marcus Mosiah Garvey's birth to make the request during a news conference at Washington D.C.'s National Press Club.
"Everyone stands on the shoulders of everyone who comes before," the younger Garvey suggested. "There would be no Black president if it wasn't for the Civil Rights Movement. The Civil Rights Movement started with Marcus Garvey, as acknowledged by Brother Malcolm, as acknowledged by Martin Luther King, and acknowledged by anyone who knows history. The president stands on that foundation."
Garvey founded the Universal Negro Improvement Association in his native Jamaica in 1914, expanding it to New York City two years later. By 1920, the UNIA had amassed a loyal following of more than 4 million members. Garvey launched a fleet of steamships—the Black Star Line—to facilitate his "back to Africa" vision, and he established the Negro World newspaper, to help spread the word.
"Garvey's genius was the ability to build the world's most expansive Black mass movement of the likes we have never seen since," noted Quito Swan, Howard University's associate professor of African Diaspora history.
Garvey's secular organization advocated for Black pride as well as self-determination and self-sufficiency.
The movement eventually attracted the F.B.I.'s attention, which then arrested Garvey in 1922, for reportedly soliciting donations and selling stocks to investors through the mail. He was convicted of mail fraud the following year and sentenced to five years' incarceration. After serving approximately two and a half years, he was deported to Jamaica.
Garvey became an ancestor in London in 1940, and his body was interred in Kingston, Jamaica.
"It was very difficult for me as a young man to reconcile what I knew about my father, personally, and what I knew about my father from my mother, to reconcile that with a criminal conviction when it was clear when he gave his whole life and sacrificed his family for African people," explained Garvey's 82-year-old son.
The Garvey family attorney, Justin Hansford, stated that neither the Department of Justice nor the White House have responded.
"Legally, there's not much more to be done," indicated former NAACP President Kweisi Mfume. "This is now in the court of public opinion."