Generations Jazz Fest, Nuyorican Tuesdays, George Curry
Ron Scott | 9/1/2016, 3:29 p.m.
Corneil has been playing monthly at the Nuyorican since 1995. The percussion and conga player was a member of the Corso house band, the earlier blazing shrine of salsa. He has played with vocalists Larry Harlow and Joe Bataan, and the pianist Hilton Ruiz.
He was nominated for a Grammy Award (Best Latin Jazz Album, 2010) for "Things I Wanted To Do." His CD, "Afro Blue Monk" (Chemboro Music, 2012) is a furious combination of African rhythms, blues and Latin Jazz.
The cut "Afro Blue" takes on a somewhat haunting melody with vocals by Ileana Santamaria, Frank Fontaine on clarinet and Elio Villafranca on piano, which transforms into a hip bolero. Special guest trumpeter Jimmy Owens steps out on the title cut, "Blue Monk," adding a jaunting high fly.
The second Tuesday of every month is Latin Jazz Big Band night, featuring the drummer/percussionist/composer Victor Rendon & Bronx Conexion. The 21-piece big band plays Latin standards and the charts of Count Basie but are there for the ferocious salsa tunes.
The big band hinges on those days when the Allegra All-Stars, Johnny Pacheco and Charlie and Eddie Palmieri was holding court at the Concord Plaza and Hotel Diplomat.
Although most of the musicians have fulltime jobs, they are all professionals who have been a part of noted bands at large. Rendon often invites his music students from Lehman to sit in. He has played with Mongo Santamaria, Chico O'Farrill and Carlos "Patato" Valdés.
Rendon is an instructor at Lehman College in the Bronx, where he co-leads the Latin Jazz Ensemble. Rendon and the big band have appeared at the Nuyorican since 2012.
Rendon and the big band recently released their debut CD, "True Flight" (Tortilla Flat Music, 2016).
Corneil is also a member of the band and appears on this recording. This outing includes originals such as Rendon's "Café Sin Leche" ("Coffee No Milk") an up-tempo salsa/mambo, and covers such as Bob Marley's "No Woman, No Cry," reconstructed into a Latin-tinged swing with melodic drum and conga beats.
Latin music reigns supreme the first and second Tuesday of every month, featuring the Chembo Corniel Quintet and Victor Rendon & Bronx Conexion, respectively. The music begins at 9 p.m. with an admission price of $10 and $7 for students.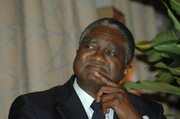 Like many, I was extremely shocked and saddened to hear about the journalist and activist George Curry passing Aug. 20 from a heart attack at the age of 69.
He had so many goals he wanted to attain. One of them was resurrecting Emerge magazine, of which he became the editor-in-chief in 1989. I met Curry during our membership in the New York Association of Black Journalists. He was actively involved in the organization and committed to our summer internship program for high school students.
When the activist, novelist and author Ishmael Reed coined the phrase "writin is fightin," he could have had Curry in mind. Curry was a warrior. His pen was his sword and his computer became his international cellphone to inform America and the world on the issues of Black America.
Curry had the wisdom and courage of the abolitionist, orator and writer Frederick Douglass. He inspired thousands of young writers, including his peers. It is his shared courage that will enable fellow writers to carry the torch that he so gallantly held.