Step up in boots and sporty styles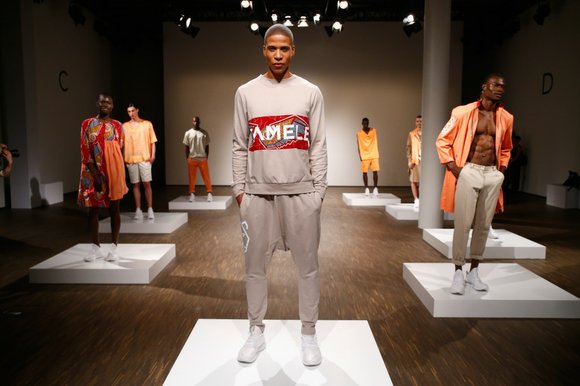 Recently at the Mercedes-Benz Fashion Week Berlin's spring/summer 2016 shows, emerging designer Alexandra Tamale made a strong fashion statement with a collection of Rio-timely sportswear for on or off the court. The 22-year-old presented her first collection at the Black Fashion Week in 2014, and this year in Berlin her clothes created a stir. Her sporty pieces were well-coordinated in cool, loose-fitting shapes and bold colors. Tamale studied fashion design at the BEST-Sabel Design School in Berlin, where she graduated in 2012. Look out for her in the future.
For spring/summer 2017, there's fashion to boot! Patrick Mohr-K1XPM showed a minimalist boot collection, and the look was luxurious, yet playful with geometric silhouettes. His pure materials, such as cotton, wool and leather, were impressive. His unisex boot styles were enhanced with subtle sportiness and a modern avant-garde. The designer's looks may be described as urban and clean because of their classical elements, which were combined with new forms.
Mohr is a progressive designer who focuses on fashions with a timeless sensibility. He completed his fashion studies at the international fashion school ESMOD in 2007. In the same year, he won the "Prix Createur" award for the best collection. With artistic activism, he works to escape boundaries that exist in the fashion world. Mohr's outspoken designs create something new, something independent.
For boys fall/winter back-to-school, the fashion feeling is all about thinking outside the box. Top trends for boys focus on the mood, influences and key items such as footwear, jewelry and eyewear. Individual expression in apparel is key. Look for styles with sleeves that may be a little too long, layered looks and bright hues. In patterns, there are geometric prints and abstract graphics. There's a youthful vintage, yet modern style in boys wear for the new season. Expect to see Wunderkind's intarsia sweater, skinny cropped cords, pilled wool cardigans and elongated tops with patched elbows. Other stylish points to pick out included the printed shirt tail, irregularly stitched pockets, pieced materials, kitschy bottoms, printed insets, crafty button plackets, hand-stitched collars, hide-and-seek button tabs and embroidered pockets.