Talking SCHOP! Fan food fuel in Flushing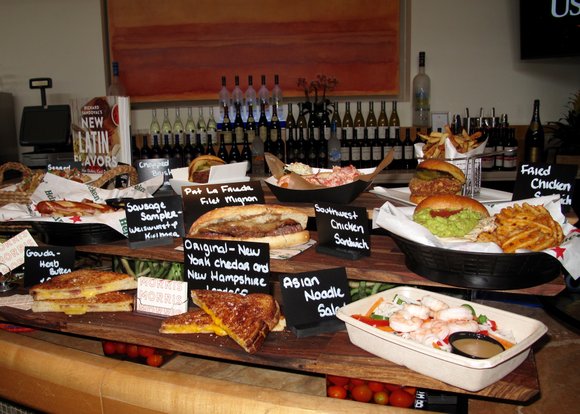 The first week of the 2016 US Open (@USOpen) tennis championship is in full swing in Flushing, Queens, and there is plenty to report, not the least of which is the new grandstand and expanded grounds. Spending the day there just got a whole lot better and more delicious, too!
Each year the USTA (@USTA) and the US Open invite premier New York chefs, restaurants, eateries and food trucks to set up shop at one or more of the ground's dining options. During the two-week tournament, these professionals will feed more than 700,000 hungry fans with a range of discerning palates.
The Food Village will still serve all of the Americana food fans have come to enjoy at sports settings—hamburgers, hotdogs, fries, ice cream and more. However, it will feature some new New York eats, one of which is an exclusive sandwich from chef David Chang's fried chicken spot Fuku (@momofuku), the spicy fried chicken bacon ranch sandwich—habanero-brined, spicy fried chicken thigh on a Martin's potato roll, topped with applewood smoked bacon, Fuku ranch and pickles. Have to try that! Others include the first vegetarian/vegan vendor, Soomsoom (@mysoomsoom), and their falafel salad, Korean tacos from Korilla BBQ (@KorillaBBQ) food truck and official elote (Mexican street corn) from Angry Taco.
I am so excited to see the owners of Toro (@toro_nyc), James Beard Award-winning chef Ken Oringer and chef Jamie Bissonnette bring their Spanish tapas bar to the US Open. They will be serving up some of my favorite dishes in pincho boards, featuring toasted olive oil and tomato breads, spicy Shishito peppers, goat and sheep cheeses, dates filled with Marcona almonds and Cabrales blue cheese, and premium cured Spanish ham. I am hoping their bocadillo de erizos, a pressed sandwich of sea urchin, miso butter and pickled mustard seeds, will be there along with their other seafood tapas, such as Galician octopus with tomatoes and charred onions.
Last, and certainly not least, the Open got the note: "It's the end of the summer! We need seafood!" With the new grounds comes the Oyster Bar, a new seafood concept focused on fresh local oysters and seafood perched right behind Building 7. The Oyster Bar will be shucking a seasonal selection of oysters and serving seafood such as jumbo lump crab cocktail, shrimp ceviche, poached salmon salad and shrimp caprese salad plus desserts, beer, wine and cocktails.
If you are planning to attend the 2016 US Open, go hungry! I will be there with a Le Grand Fizz, the newest US Open cocktail, in hand. See you there!
Happy eating and thanks for reading!
Kysha Harris is a food writer, culinary producer, consultant and owner of SCHOP!, a personalized food service offering weekly and in-home entertaining packages. Questions? Comments? Requests? Feedback?  Invitations!  Email her at kysha@SCHOPnyc.com, follow her on Twitter and Instagram @SCHOPgirl or on Facebook www.facebook.com/SCHOPnyc. For even more recipes, tips and food musings subscribe to her blog at www.talkingSCHOP.wordpress.com. Follow AmNewsFOOD @NYAmNewsFOOD.