Trump's minority outreach off to rough start
Sara Murray and Ashley Killough, CNN | 9/3/2016, 7:22 p.m.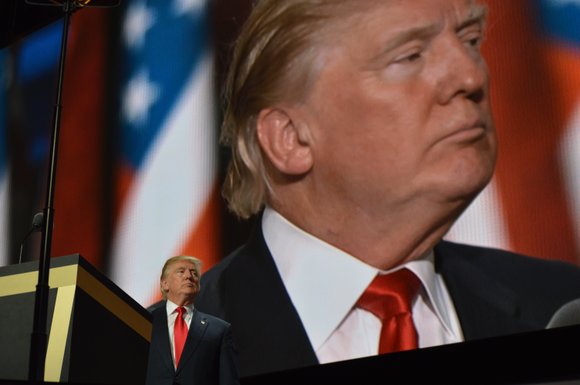 (CNN) -- Donald Trump's highly publicized efforts to woo minority voters aren't going exactly as planned.
In the week and a half since Trump's advisers touted an aggressive push to make inroads with African-American and Latino voters, the GOP nominee delivered a hardline immigration speech, lost the support of some of his prominent Latino backers and faced ridicule for attempting to tightly choreograph his visit to an African-American church slated for Saturday.
"It's going abysmally bad for Trump right now," said Javier Palomarez, chief executive of the US Hispanic Chamber of Commerce, in a blunt assessment of Trump's outreach to Hispanic voters.
The Trump campaign's sudden decision to spotlight minority outreach efforts with less than three months until Election Day came amid mounting concern in his campaign that some voters viewed the GOP nominee as racist.
But some have viewed Trump's efforts thus far as ham-handed. That's partly because he regularly makes his pitch to minority voters in front of almost entirely white audiences. But it's also because -- even as the Trump campaign has added events with more diverse audiences -- they've tended to be small roundtables stacked with participants selected by the campaign.
"He talks about us, and he doesn't talk to us," said Bettina Inclán, the 2012 director of Hispanic outreach for the Republican National Committee. "It doesn't matter whether you are white, black, brown, yellow or red, (voters) want authenticity -- that you're not just going to them for their vote but you care about their issues."
She was one of multiple strategists and leaders of minority efforts who questioned whether Trump's appeals were truly aimed at non-white voters and whether they are focusing more on optics than actual engagement.
"Sometimes these outreach efforts seem like they're geared to appease Republicans and white voters who are leaving him," Inclán said.
Jason Miller, a spokesman for Trump, dismissed that perception.
"Mr. Trump is committed to being a president for all Americans, and unlike Hillary Clinton, that includes campaigning hard for everyone's vote," said Miller, as he knocked Clinton for her relatively light public schedule. "Mr. Trump knows that by working together, we can improve economic opportunities for everyone, make our communities safe and break up Washington's rigged system that has left too many behind."
Ahead of Trump's visit to an African-American church in Detroit on Saturday, a New York Times report suggested Trump's latest diversity stop would be scripted by his advisers. After receiving advance questions from Bishop Wayne Jackson for Saturday's question-and-answer session, Trump's advisers prepared an eight-page transcript of replies for the candidate.
The pastor now says he plans to ask some questions that haven't been pre-screened and said Trump would also address his congregation.
"He's been preaching to African-Americans from a backdrop of white people," Jackson, the pastor of the Great Faith Ministries Congregation in Detroit, told CNN on Friday. "His statements are that 'I'm going to make the black community better.' ... We want to know how you're going to do that."
Jackson told reporters Saturday that Trump's answers weren't scripted, though he acknowledged Trump was ready for the questions.
"He just sat down like a normal guy and answered the questions," Jackson said.
Throughout his presidential campaign, Trump has turned down opportunities to speak to diverse audiences. He declined an invitation to the National Association for the Advancement of Colored People convention, as well as four different invitations from the National Urban League to participate in questionnaires, briefings or conventions, according to the group.
Another blow to Trump's efforts came this week when he delivered his highly anticipated immigration speech. While several of his advisers and Hispanic supporters expected him to moderate his approach, Trump delivered an enforcement-focused address that baffled and offended even some of his supporters.
Rev. Tony Suárez, who sits on the executive evangelical committee for Trump, called the policy address "disappointing and confusing."
Unlike other high-profile Hispanic supporters who dumped Trump after the speech, Suárez said he hasn't left the advisory board because he doesn't want to make a "rash decision." Still, he said if Trump's latest speech is an indication he's backing mass deportations, the GOP candidate would "virtually close the door of every immigrant majority congregation in the United States."
Political operatives and leaders of minority-focused organizations said there are plenty of more authentic and effective opportunities available for Trump to engage with minority voters.
Inclán suggested Trump buy television advertising in Spanish in Nevada -- a state where polls show him within striking distance of Democratic nominee Hillary Clinton -- to highlight his business record and focus on job creation.
In the past, GOP candidates have focused their efforts on minority business or evangelical communities. Less-scripted campaign stops, like stopping by Versailles -- an iconic eatery in Miami -- for coffee with Cuban Americans, could also benefit Trump, Inclán said.
In a more intimate environment, some voters have come away with a more positive impression of the bombastic billionaire.
Oz Sultan, who identified himself as a conservative Muslim, recently participated in a meeting at Trump Tower with the candidate and young Republicans like himself who are part of the GOP's Republican Leadership Initiative, a program with a diverse class of activists.
He went into the meeting torn between voting for Trump or Libertarian nominee Gary Johnson. He said he was impressed with Trump's interest in the issues that were raised and walked away leaning toward Trump.
"I think that was a human side of Trump that we saw," Sultan said. "It definitely made me really reconsider him."
Alfred Liz, whose parents were born in the Dominican Republic, also said he was surprised by Trump's affable demeanor at the roundtable.
"When people are actually able to meet him and get to know the real Donald Trump, he's completely different," he said. "When people get over that barrier that's been put in place and enforced by Democrats, then people will be able to see that that's the guy they want to vote for."
Perhaps the most resounding criticism of Trump's new outreach effort, though, is that the candidate should have started his appeal to minority voters far sooner.
A Suffolk University/USA Today poll released this week was the latest to illustrate the chasm between Trump and Clinton when it comes to non-white voters. While 24% of Hispanic voters opted for Trump, 65% backed Clinton. And he received just 4% of the African-American vote, compared to her 92%.
"Minority outreach, stakeholder engagement and coalition-building -- those are long-term projects. Those aren't just things that happen when you say you're going to go and engage the African-American community," said Jeff Polesovsky, who served as the political director of Gov. John Kasich's presidential campaign and deputy campaign manager when Kasich ran for re-election in Ohio in 2014. That year, Kasich won 26% of the African-American vote.
"You have to spend a lot of time listening, understanding their needs and then reacting with a sense of urgency," Polesovsky said. The Trump campaign "made it political before it even got off the ground."
Now, it may be too late.
Palomarez, the Hispanic Chamber of Commerce head, said he believes Trump has little chance of improving his numbers with Latino voters after his latest immigration speech.
"Honestly, it just seems like there's no going back. The offense is so deep, so outlandish," he said. "I really don't know when or how or if the Republican community will ever recover