Bronx street renamed after late Assemblyman Samuel Bea Jr.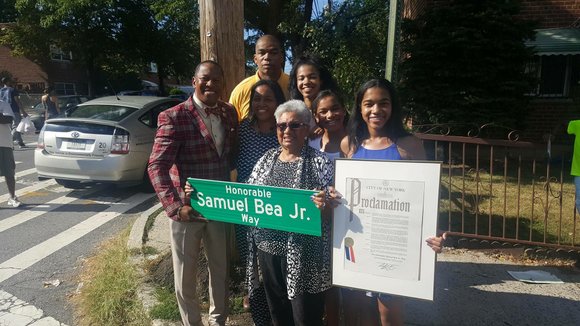 Friends, family members and elected officials gathered Wednesday at the corner of Ely Street and Strang Avenue in the Bronx, to rename the intersection "Honorable Samuel Bea Jr. Way," in memory of the state lawmaker who is best known for his 30 years of service as district manager of Community Board 12.
Bronx Borough President Ruben Diaz Jr. attended the celebration and sign unveiling officiated by Council Member Andy King.
Bea became Community Board 12's district manager in 1977 and retired in 1996. He was re-elected three times to the New York State Assembly. He voted against the repeal of the commuter tax and voted for an increase in the minimum wage bill that was passed in the Assembly.
A native of Harlem, Bea died in Virginia Beach, Va., in 2013 at age 80 after battling illness.