Injury-plagued Liberty show resolve
9/15/2016, 5:47 p.m.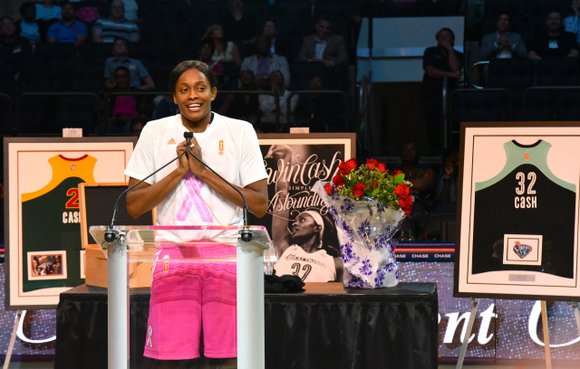 Even though the New York Liberty has locked in third place in the WNBA heading into the playoffs, the team is playing with full-on intensity, despite the fact several players are currently on the injured list. Kiah Stokes, Tanisha Wright and Shoni Schimmel missed last week Wednesday's home court 78-102 loss to the Seattle Storm, and Shavonte Zellous joined them on the sidelines for Friday's tight 89-82 win over the Connecticut Sun. 
Zellous returned to the lineup for Sunday's 81-84 loss against the Dallas Wings. Tuesday, the Liberty lost 62-75 to the Washington Mystics. Tina Charles said no matter how many players dress for the game, they are ready to play. 
"We're all playing on this team for a reason," Charles said. "We have to play smarter being this short-handed." 
The third seed means the Liberty get a bye to the second round of the playoffs. The time off gives Stokes and Wright a chance to heal and hopefully return. On the upside, Epiphanny Prince's game is coming together. She scored 13 points in the win over the Sun. 
"I'm playing with more confidence," said Prince, who is recovering from a torn ACL. "I bring a lot of energy. That starts on the bench and coming in, being aggressive and helping my team in whatever areas they need." 
Although action on the court is somewhat beside the point in these final regular season games, there has still been a lot of excitement at Madison Square Garden. Last Wednesday, the Liberty staged a moving tribute to Swin Cash, who will retire at the end of this season. 
"It's your responsibility to move this game forward on the court, off the court," said Cash, who said friendships and memories you make with teammates are the heart of the game. "I love the game, I respect the game and I'm giving it all back." 
An honored guest at Friday's game was sprinter Tori Bowie, winner of three medals at the Olympic Games in Rio. The crowd gave Bowie a standing ovation, which left her a bit stunned. 
"I didn't expect the crowd to do that," said Bowie, who played basketball in high school. "It caught me by surprise. Basketball was my first sport, my first love. … It's exciting [to see the pros play] and made me miss it even more."