A jazz tribute and flyover to Dr. Roscoe Brown Jr., renowned Tuskegee Airman and educator
Herb Boyd | 9/15/2016, 4:34 p.m.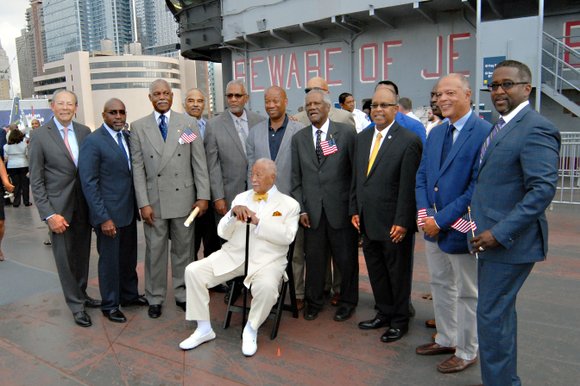 Famed Tuskegee Airman and educator Dr. Roscoe C. Brown Jr. made it abundantly clear that when he died, there were to be no funeral services. He insisted there be a jazz concert in his memory.
Brown, who joined his distinguished pilots in the great beyond July 2 at 94, got his wish and then some Friday aboard the Intrepid, where two ensembles of notable musicians practically rocked the boat in their musical tributes.
Tenor saxophonist Joey Berkley and his quartet, featuring vocals by drummer Tony Jefferson, particularly on their version of "Take the A Train" would have pleased the jazz-loving soul of Brown. And his spirit was certainly moved when pianist Danny Mixon took flight on Monk's "Straight, No Chaser," with alto saxophonist Antonio Hart filling the Lutnick Theater in Hangar 1 with his luscious sound.
Photos by Karl Crutchfield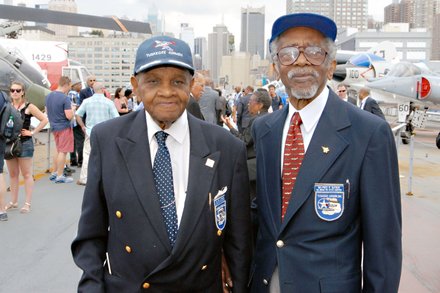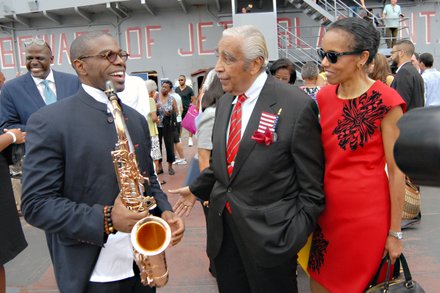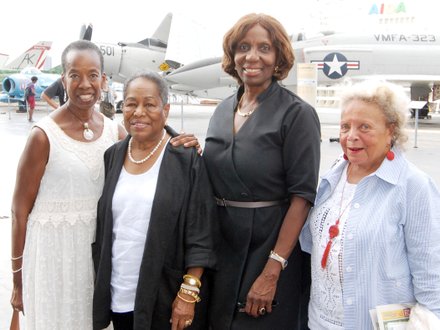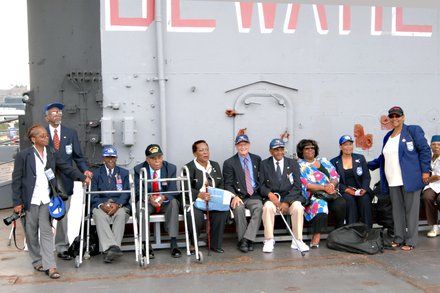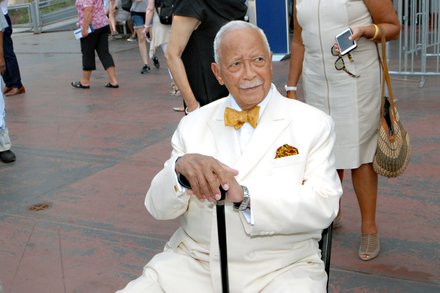 The music's intensity reached another deck on the mighty ship when vocalist Ghanniyya Green delivered her rendition of "Fever" and "The Nearness of You," and Mixon's solos wonderfully embellished her lyrics. It was a touching moment from Mixon, after their rousing version of "Duke's Place," to point to the large photo of Brown on a back screen, perhaps indicating the location as "Roscoe's Place."
With the jazz still resonating below, the crowd was led to the deck by Dennis Brown, Brown's son, who, before the music, had regaled the audience with stories about his father.
"Look skyward to the north," Dennis Brown announced to the spectators. Suddenly, a sonic boom was heard and four F-16 Fighting Falcons zoomed across the sky in a "missing man" formation in the flyover.
The jets were from the 100th Fighter Squadron, Alabama Air National Guard, in which Dr. Brown was a former commander. During World War II, the Tuskegee Airmen were responsible for escorting the bombers over Europe and never lost a bomber. Brown was celebrated as the first of the Tuskegee Airmen to shoot down a German jet.
Among the attendees was a large contingent of veteran Tuskegee Airmen, many of them with their own stories about dogfights in the air against the Germans. But it was left to Congressman Charles Rangel, former Mayor David Dinkins and former Governor David Paterson to highlight the achievements of Dr. Brown, including his years as a leading educator and president of Bronx Community College.
Paterson recounted a bet he made with Brown about the outcome of the Super Bowl last year between the Carolina Panthers and the Denver Broncos. Paterson said he placed his bet on the Panthers. He lost. "Since the opening game of the season was between the two teams, I told him at that time the Panthers would get revenge," Paterson said. "Well, they lost again. And this means Roscoe is still a winner."
And he will always be a winner to millions of Americans who have benefited from his contributions, and many of them came by twos onto the Intrepid—Dennis Brown with his wife, Bernadette; Rachel and Sharon Robinson; Pepe Sutton and his daughter Keisha; Robin Bell Stevens and Linda Walton; Harry Belafonte and his wife; Paterson and his brother Daniel; Lloyd and Valerie Williams; Robert Van Lierop and his cousin Dennis Walcott; and Glenn Hunter and Ken Sargent, among others. And there were Ken Knuckles, Paul Williams, Michael Gardner, Councilmember Inez Dickens, Londel Davis, Elinor Tatum, Hazel Dukes and Robin Verges.
Although Brown would have felt honored by the flyover and the large number of friends and relatives on the ship, it was the music, the jazz, that would have pleased him down to the last coda, from bow to stern.