JAZZ NOTES: Hope Way, Green Film, Dee Dee Bridgewater, Sistas'
9/16/2016, 2:05 p.m.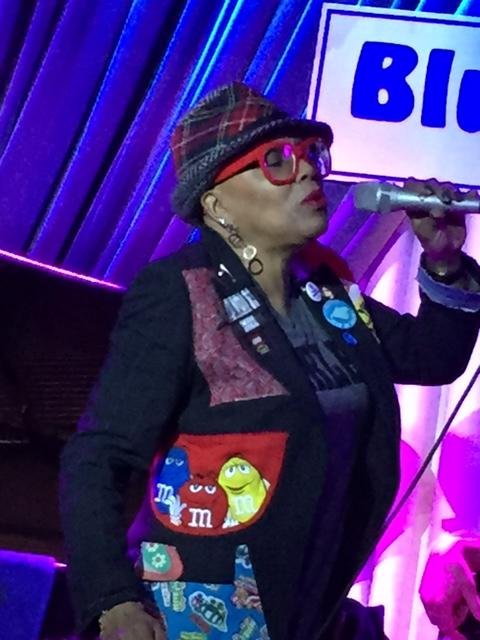 Among the individuals interviewed in the film are Grammy Award-winning musician and vocalist George Benson, who called Grant his "favorite guitarist." Also featured are the alto saxophonist Lou Donaldson, who is credited with discovering Green; Michael Cuscuna, record producer; Michigan Congressman and longtime jazz supporter John Conyers Jr.; and the recently departed legendary sound engineer Rudy Van Gelder.
Harlem in particular has meaning because Grant Green collapsed from a heart attack and died in this community in 1979. He was taken to Harlem Hospital. The film's showing in Harlem showcases his life and legacy as coming full circle.
 Dee Dee Bridgewater is one of the most dynamic female singers on today's scene. You could call her a jazz vocalist, but that would be musical discrimination. She swings the rainbow bedazzled with humor and sassiness.
Sept. 23-24, Bridgewater will bring her delights "Songs We Love" to the Appel Room in Jazz at Lincoln Center (60th Street and Broadway), for two shows each night at 7 p.m. and 9:30 p.m.
Her repertoire will travel through 100 years of jazz song. She will open with the ensemble of director/trumpeter Riley Mulherkar and vocalists Vuyo Sotashe and Brianna Thomas.
The following evening, the band will be led by music director/drummer Ulysses Owens Jr., and vocalists Theo Blackmann and Brooklyn's own Alicia Olatuja, with the pianist Allyn Johnson, the bassist Larry Genadier and keyboardist David Rosenthal.
Sistas' Place, the jazz oasis in the heart of Brooklyn, will begin its season Sept. 24, with the genre's foremost arranger, bandleader and composer, the trumpeter Charles Tolliver. He will lead The New Charles Tolliver/MUSIC INC. quintet, with guitarist Bruce Edwards, pianist Theo Hill, bassist Essiet Essiet and drummer Lawrence Leathers.
In 1970, Tolliver released the now classic album "Music Inc." on Strata-East, a record label he co-founded and then continued to tour with this MUSIC INC. band through the 1980s and 90s.
He continues to explore this musical legacy, as he unites multiple generations of jazz musicians under his visionary lead. Tolliver will pay tribute to John Coltrane at 80.
Sets are 9 p.m. and 10:30 p.m. For more information, call 718-398-1766 or visit sistasplace.org.
Tolliver's shows are always sold out, so buy your tickets in advance: $25 per set.
The spread of gentrification throughout Brooklyn has blossomed with such venues as the Bric Music complex and National Sawdust, which are launch pads for emerging talent, as well as platforms for established artists. It is important to remember that before gentrification and these beautiful new venues, Sistas' Place was in the heart of it all, enduring the storm. Sistas' is more than a venue. It is a home (celebrating its 21st anniversary), where fans and friends go to bathe in this music called jazz that cleanses your soul and tingles your toes. Since 1995, Sistas' Place has presented the best in jazz right in the community and this season will continue the tradition. It is Viola Plummer's commitment to the music and the community.
Sistas' Place is located at 456 Nostrand Ave. in Brooklyn. For further information, call 718-398-1766 or visit www.sistasplace.org.