Talented black dance artists among 2016 Princess Grace awardees
Zita Allen | 9/16/2016, 1:56 p.m.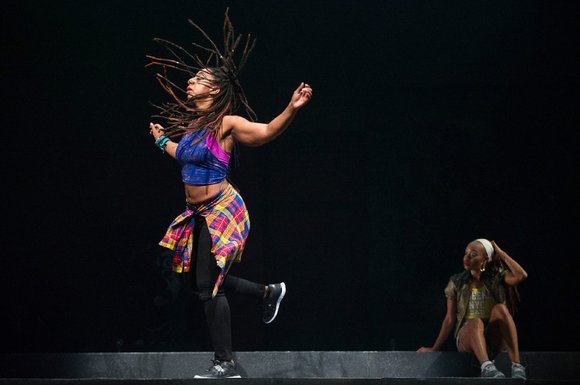 An unusually large number of young gifted Black dancers and choreographers are among the recently announced recipients of the coveted 2016 Princess Grace Awards. The list includes Special Projects awardees choreographers Kyle Abraham and Camille A. Brown, Dance Fellowship winners Tamisha Guy (Abraham. In Motion), Paige Fraser (Visceral Dance Chicago) and Jeffrey Duffy (Hubbard Street Dance), scholarship winner Tyson Clark (Boston Ballet) and honorarium winner Dance Theater of Harlem ballerina Chrystyn M. Fentroy.
The New York-based nonprofit Princess Grace Foundation-USA was established 34 years ago by Prince Rainier III of Monaco to honor his wife, Princess Grace's legacy. The former Hollywood film star's devotion to the arts lies at the heart of the foundation's mission to identify and assist emerging talent in theater, dance and film by awarding grants with scholarships, apprenticeships and fellowships. Over the years, the foundation has awarded $11 million to 800 awardees, including Alvin Ailey American Dance Theater Artistic Director Robert Battle and choreographer Kyle Abraham.
This year's awards total more than $1 million and will be presented to artists this fall at a gala attended by Their Serene Highnesses the Prince and the Princess of Monaco and co-chaired by, among others, American Ballet Theater's Gillian Murphy and Ethan Stiefel.
Executive Director Toby Boshak recently said, "We are thrilled to welcome this year's incredibly talented award winners into the Princess Grace Foundation-USA family. Each year we enthusiastically support a passionate new group of emerging talents who will one day be at the forefront of the arts."
Although some see awards as humdrum affairs, this year's PGA recipients are clearly not among them. Brown's excitement was palpable as she told the Amsterdam News what it means to receive the Statue Award, consisting of an unrestricted $25,000 cash gift and a bronze statue of Princess Grace by Dutch artists Kees Verkade, especially because that award has gone to only 63 other artists.
"The night before they told me I was a recipient of the Princess Grace Award, I was thinking I couldn't do this anymore," Brown confided. "I was exhausted. I was frustrated. The next morning, I learned I was an awardee. I just thought, 'Wow! The day before I was feeling really down and now it's like the universe is telling me I'm on the right track.'"
Despite being a four-time PGA Winner (2016 Statue Award, 2016 Choreographic Mentorship Co-Commission Award, 2013 Work-in-Progress Residency Award and 2006 Choreography Award), Brown said that one of the first questions she asked when she got the news was, "Why?" She continued, "I know it's a very large award and I didn't know what I had done to deserve it. I think it's just that I didn't expect to get it."
Brown added, "I feel like Black female choreographers have often been removed from this conversation about diversity, with some folks not understanding the amount of work and guts it takes to do what we do."
Brown admitted that she had doubts when she decided to leave Ron K. Brown's Evidence to form and choreograph for her own company. "One of the reasons I didn't think I could choreograph was because of the lack of exposure in terms of other Black women doing this work," she said. Of course, she was aware of pioneers Katherine Dunham, Pearl Primus, Dianne McIntyre, Jawole Willa Jo Zollar and others, but Brown said it was the scarcity of images of other Black female choreographers in her generation that fueled self-doubt.