Talented black dance artists among 2016 Princess Grace awardees
Zita Allen | 9/16/2016, 1:56 p.m.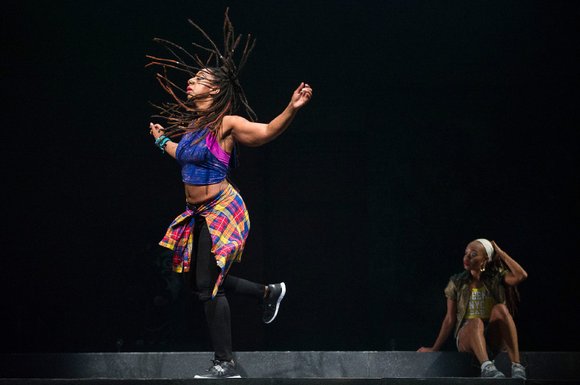 Since, she has learned that it is important for Black women to dig down deep and draw on the inner fire that compels them to want create. That this approach works is evident both in an impressive body of work, which includes "Mr. TOL E. RAncE" and "BLACK GIRL: Linguistic Play," and awards such as the PGA and Brown's recent nomination for a Bessie Award, dance's equivalent of the Tony Awards.
Awardee Fraser, of the Chicago-based Visceral Dance Company, is delighted that others value both her artistry and her story of pursuing dance despite a potentially debilitating condition. "This is quite a thrill," she said. "I'm happy that I can inspire others struggling with scoliosis who might want to become professional dancers. This award isn't just for me, it's for other dancers who can see what happens when you continue to push through obstacles. "
Guy, of Abraham. In Motion, also highlights the inspirational value of the award. We caught up with her at the Alvin Ailey American Dance Theater headquarters during that company's rehearsal of the third and final segment of the MacArthur "genius grant" winner's work "Untitled America," which tackles the thorny, timely issue of the high incarceration rate and its far-reaching ramifications in our communities.
The Trinidad and Tobago native, who recently made Dance Magazine's 2016 list of "25 to Watch," has already had an impressive career— training at Ballet Tech, the New York Public School for Dance under Eliot Feld, graduating from SUNY Purchase College with a double major in dance and arts management, working with Complexions Contemporary Ballet and the Martha Graham Company before joining Abraham's company in 2014.
Guy called the PGA a "dream come true," adding, "it will propel me to continue to share my craft and to work even harder to contribute to an art form that continues to give me so much."
Sharing a few words of advice for other young African-American female artists struggling to make their unique voices heard, Guy said, "I wholeheartedly believe in a mantra that I repeat to myself often which is that all things are possible. I truly believe that through hard work, dedication and an ample amount of faith you can achieve all things. Most of all, trust yourself and believe that you can and you will."