Bronx DA and legal aid clear 355 warrants
BRITTNEY M. WALKER | 9/22/2016, 10:01 a.m.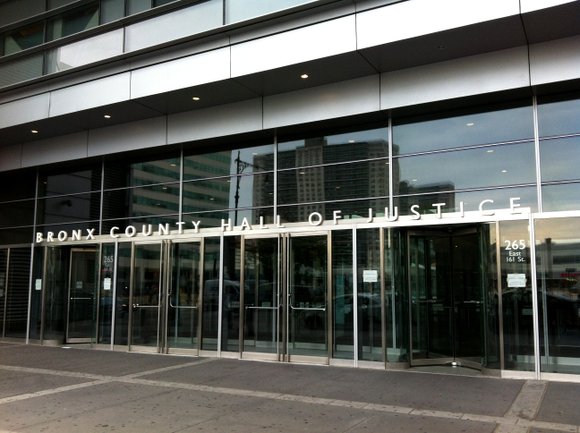 It was a breezy fall-like morning last Saturday when Jerome Brown stood in line at the Mount Hope Community Center in the Bronx, waiting for his certificate signifying a clean record.
A local DJ, Brown was denied several career opportunities, including his dream job of working at a bank, because of unresolved summonses dating back to 1988.
"The warrant held me back from getting a job. It held me back for a long time because I went to a couple of jobs and couldn't get it because they look on the computer and they see that. It really bothered me," Brown said.
It was fare evasion and riding his bicycle on the sidewalk that prevented him from pursuing his dreams. Brown explained that he even served jail time for one of the summonses, but the warrant still hadn't cleared.
New York City has more than 1 million unresolved warrants for what is called "quality of life" violations dating back to the 1980s.
Over the weekend, however, District Attorney Darcel Clark hosted Another Chance, an opportunity for local Bronx residents as well as New York City residents to clear their names from outstanding warrants for low-level violations. The DA's office sent out approximately 3,500 letters to Bronx residents who were screened and eligible to receive the services. Some attendees, however, weren't sure they had warrants, explained attorney William Woods, supervising attorney in the criminal practice in the Bronx at the Legal Aid Society.
The Legal Aid Society was the nuts and bolts of the operation, providing free legal advice and guidance to help attendees address old summonses and ominous warrants. This event is one of many the organization has been involved with, helping to clear thousands of names over the past year across the city. Attorneys, paralegals and interns all worked tirelessly with residents, researching violations and helping them through the process.
Although Another Chance and events like it have popped up around the city, the system is in need of change. Woods explained that with the newly passed Criminal Justice Reform Act, residents can save time and money.
"The decriminalization of certain things or changing things into a summonsable offense instead of going through the criminal court system is going to be beneficial for everyone," Woods said.
"It's more cost-effective, it's more time-effective, it's a better way of handling these non-violent—they call them 'quality of life,' but I think that's a mislabel. People are living their lives and unfortunately people have interactions with different police officers and community members and sometimes those interactions are positive and sometimes they're negative."
Jason Winchester of Harlem attended the event Saturday, hoping to clear his name of several quality of life violations; for some he had served time in central booking.
Over the years, Winchester had a few negative interactions with the police, being ticketed for different violations such as walking an unleashed dog, drinking alcohol in public and carrying a small amount of marijuana.
"[The warrants] are inconveniences, especially when someone with a beer ticket shouldn't be locked up with someone who just stabbed someone. I was stopped and searched once, and I got caught with marijuana. Instead of getting a DAT [desk appearance ticket], I got thrown in. And I had petty fines I couldn't pay at the time. Now I can just move on with my life," Winchester said.