Mugabe Is Right! rally at UN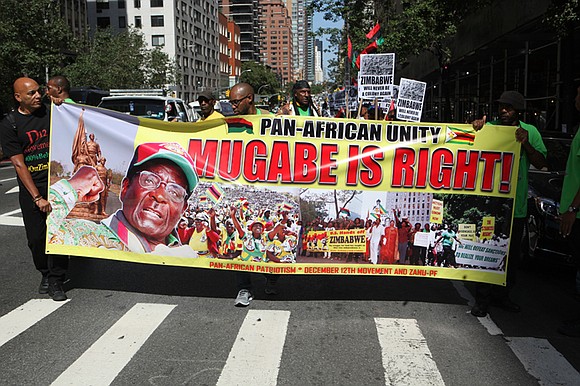 Organized by the Brooklyn-based December 12th Movement, a contingent of approximately 100 grassroots activists converged on the northeast corner of 53rd Street and Lexington Avenue this past Saturday at noon and marched through the streets of Midtown Manhattan in support of African liberation and Robert Mugabe's efforts to keep Zimbabwe self-sufficient from Western colonial capitalists.
"Mugabe is right!" "Hands off Zimbabwe!" "We are an African people!" "Zimbabwe will never be a colony again!" were some of the slogans they chanted along their journey.
More than half of the demonstrators carried anti-imperialism signs and Pan-African red, black and green flags. And by the time they reached the United Nations' Dag Hammarskjold Plaza at 47th Street and First Avenue, they had been escorted by a caravan of New York's finest dressed in blue, some driving police vehicles and others on foot.
"This is an attempt by U.S. imperialism to recolonize Africa, to remove Mugabe, to remove ZANO-PF and to put in a neo-colonial puppet," said People's Organization for Progress' Larry Hamm. "And we will not stand by and let that happen!"
The march and subsequent rally was meant to heighten awareness regarding the resistance to U.S. sanctions against Zimbabwe and the continued exploitation of the African continent by Europe and the U.S.
"We are fighting for our freedom, and the continued leadership of Robert Mugabe and ZANO-PF," said December 12th Movement's Viola Plummer.
Mugabe and various world leaders are in town to attend the 71st National General Assembly Summit of the United Nations, which runs from Sept. 13 to Sept. 26, 2016. Representatives of the 193 U.N. member states will make their presentations addressing various economic, political and social issues throughout the summit.
"Hillary Clinton is the architect of the Zimbabwe sanctions," contends December 12th Movement's Coltrane Chimurenga. "Her aspirations are to be the next president to carry out her strategy, which is to attempt to crush the legacy of ZANO-PF under the leadership of Robert Mugabe."
December 12th Movement's efforts continued Sunday at Harlem's African-American Day Parade and Wednesday morning back at Dag Hammarskjold Plaza, as Mugabe was scheduled to speak at the General Assembly later that day.