Printed lady looks are Bëts for Spring '17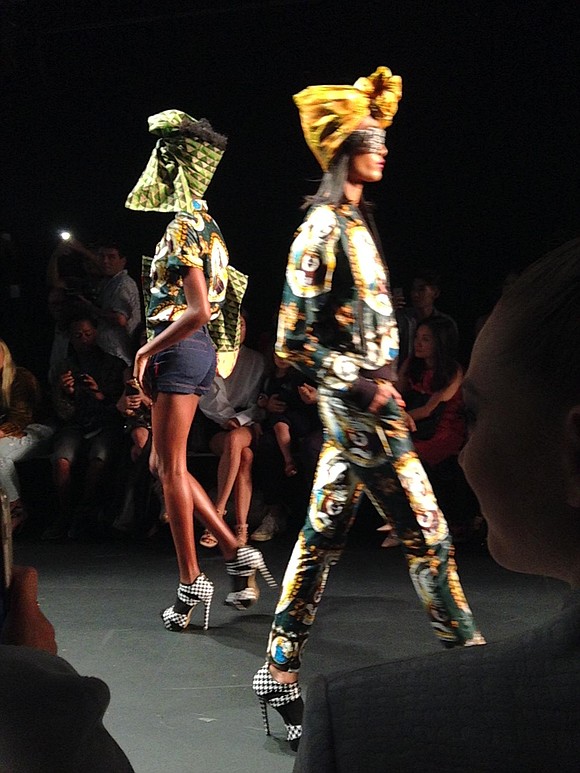 Fashion & Beauty Editor
Print it! From head to toe, Xuly Bët's collection offers a glimpse into yesterday's fashion closets, but their styles show off today's fashion flair. The headgear takes you back to the days of Josephine Baker and back even further to Aunt Jemima, yet the heady designs bring you up to date to a look that artist Alicia Keys recently reintroduced. You can see Keys judging on the TV show "The Voice," while sporting her heady looks. It's definitely a wrap! At Xuly Bët's NY Fashion Week presentation at Skylight at Clarkson Square and Moynihan Station, there was a total fashion statement. And Lamine Badian Kouyaté, the designer behind Xuly Bët, captured the look, as only he could.
His show was a 9 a.m. curtain call. Of course, the subways were slow. Huffing and puffing, we made it. My seat was still there. Lights went out. "Please uncross your legs," yelled a photographer, to those sitting in the front row. Xuly Bët's models look pretty as a picture, strolling up and down the runway. Their catwalk goes straight to the end of the runway where they strike a pose, and then turn to the beat of hot rock sounds. In Xuly Bët's short, yet sweet collection, there are day dresses, pants, shirts, bomber jackets, gowns and lots of sportswear. Prints and patterns are bold. Colors are vibrant. Even shoulder bags and shoes were in matching fabrics. Updo hair styles topped the looks. Tube-shape dresses rocked the runway.
Born in Mali, Kouyaté was inspired by his childhood communities and his mother. "The show is a tribute to women and 'Out of Africa,'" said Kouyate. He likes to add fun to fashion. He gained his design experience while working in Paris. You could always find him presenting pop-up fashion shows during the Pret-a-Porter fashion weeks in Paris. His looks were always revolutionary and shown on fabulous models who danced on the runways of his choice. Over the years, he has shown vintage styles from thrift stores that he salvaged and redesigned. His sense of street styles is on point. You can wear his clothes anywhere, any time of the day or night.
When the designer moved from Mali to France, he studied architecture. "I love his careless, instinctual hand," said designer Karl Lagerfeld. This editor remembers Xuly Bët's first show in Paris, which brought her to tears. Her grandchildren now wear the tiny brown, short-sleeved T-shirt with his name printed on front that was given to editors out at the show. Regardless of what he creates and where he shows, the look is always fresh, comfortable and fashionable. So nice to see this designer in New York! Good show!