Columbia Choice, Davis tribute, Tolliver, Ware fundraiser
Ron Scott | 9/23/2016, 10:56 a.m.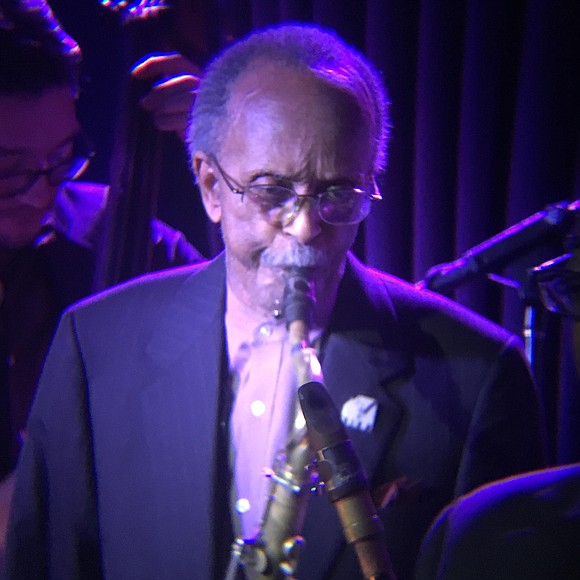 Stage presence has always been a questionable affair when it comes to jazz musicians. Some felt Louis Armstrong's stage persona was that of an "Uncle Tom," with his constant grinning and smiling, which from my perspective is far from the truth.
Ironically, the late trumpeter and composer Clark Terry shared with me some time ago it was Armstrong who advised him and the guitarist/singer George Benson to smile more, tell jokes and sing. "That was the best advice we ever received," noted Terry.
At the opposite end of the pendulum was Miles Davis, who never smiled, turned his back to the audience (to hear his band, not out of disrespect) and rarely offered the titles of the compositions played.
The bassist/composer Charles Mingus, by contrast, tried to reason with his audience, often lecturing them but also finding ways to entertain them without compromising his own convictions. Having played in bands led by both Armstrong and Lionel Hampton, Mingus understood the choices Armstrong faced as a performer and rejected Davis' aloof stage manner. 
But Mingus was just one of many critics who had something to say about Armstrong onstage. Ralph Ellison, Albert Murray, Robert G. O'Meally and Brent Hayes Edwards have all made strong arguments on how we should think about Armstrong.
Sept. 28, this topic will be discussed during a lecture by Krin Gabbard entitled, "Satchmo, Miles, Mingus, and the Performers Choices," at Columbia University (632 W. 125th St., Prentis Hall, Room 101) at 7 p.m.
The event is free, but RSVP is required. Contact ym189@columbia.edu.
When the reed player and composer Charles Davis died July 15 at the age of 83, he left a void in the universal saxophone section. Sept. 24, the life and music of Charles Davis will be celebrated at St. Peter's Church (54th Street at Lexington Avenue) at 5 p.m. His fellow musicians who are scheduled to perform will include Barry Harris, Bill Saxton, Leroy Williams, Roni Ben-Hur, Melba Joyce, Ray Drummond, Joe Magnarelli, Larry Ridley, Richard Clemons, George Coleman, Tex Allen, Victor Lewis and Louis Hayes.
Davis instructed private students from The New School and for more than 25 years was an instructor at Jazzmobile. The composer, who was born in Goodman, Miss., and raised in Chicago, eventually found his way to New York and became a noted force on the scene. In the early 1960s he was known for playing a mean baritone saxophone before he finally switched to his real love, the tenor sax.
On arriving in New York, he formed an enduring association with the trumpeter Kenny Dorham, with whom he recorded regularly.
Davis became a Harlem transplant, often playing at the Lenox Lounge and Showman's when he was not touring with Archie Shepp or Sun Ra. Earlier he enjoyed an extended stint with Billie Holiday, playing next to Ben Webster.
With his varied playing style, he earned chairs with the vocalist Dinah Washington, the saxophonist Illinois Jacquet, the organist Shirley Scott and pianist/composer Ahmad Jamal. He later joined forces with Gary Smulyan and Ronnie Cuber to form the Three Baritone Saxophone Band.