Danny Glover and labor leaders highlight labor breakfast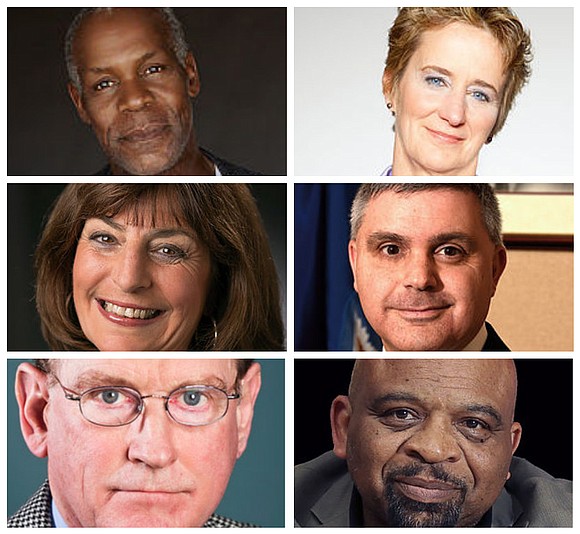 The New York Amsterdam News and Bill Lynch Associated Networks held their sixth annual Labor Awards Breakfast on Thursday at Harlem's Alhambra Ballroom. The breakfast honored labor leaders along with attorneys and celebrities who have advocated for the movement.
SEIU's International President and keynote speaker Mary Kay Henry received the "Tying Communities Together" award along with New York Nurses Union President Judy Sheridan-Gonzalez and New York State AFL-CIO President Mario Cilento. Actor and activist Danny Glover receivde the Bill Lynch, Jr. Impact Award. Labor Lawyer and Democratic Presidential adviser Harold Ickes received the Basil Paterson Award, and 1199 SEIU President George Gresham gave a surprise award to his Iris Roman.
Danny Glover is known for his work on films like "Lethal Weapon," "The Color Purple" and "The Royal Tenenbaums," but he has also developed a significant reputation as a philanthropist and an activist. Glover has pushed for social and economic justice along with global human rights, education, the arts and climate change. He has served as a Goodwill Ambassador for the United Nations Development Program, which focuses on poverty, disease and economic development in Latin America, Africa and the Caribbean.
Glover also gives speeches to advocate for immigrants and labor and has spoken at immigrant rallies, Occupy L.A. protests and, in 2011, at the 100th anniversary ceremony for victims of the Triangle Shirtwaist Fire. He co-produced "The Black Power Mixtape 1967-1975," a documentary that includes footage shot by Swedish news crews of interviews with people such as Angela Davis, Eldridge Cleaver, Bobby Seale, Stokely Carmichael and Dr. Martin Luther King Jr. This year, Glover joined the board for the Institute for Policy Studies.
Henry became the first woman elected to lead SEIU in 2010. Before that, she spent more than three decades uniting health care workers. Henry has worked with SEIU since 1979 and eventually became a chief strategist. In 1996, constituents elected her to serve as the executive vice president of SEIU.
She is credited with leading the battle to expand child health care and to shore up the State Children Insurance Program. She is also credited with agreements made between SEIU and hospital chains like Tenet, Catholic Healthcare West and Beverly Enterprises. She has helped the union form alliances with hospitals to improve the quality of patient care. Last year, Fast Company magazine named Henry one of the 100 most creative leaders, and Politico magazine named her one of the top 50 visionaries. She is reshaping Americans politics thanks to her union's involvement in the Fight for $15 movement.
Sheridan-Gonzalez is not only the president of the New York State Nurses Union, she is also a full-time staff nurse in the Emergency Room of Montefiore Moses Medical Center in the Bronx. She has worked as an RN in the pediatrics units, intensive care units and emergency rooms of several facilities including North General Hospital, Jacobi Medical Center and Lincoln Medical Center.
On top of being the president of New York State's AFL-CIO, Cilento has been a member of the Newspaper Guild-CWA since 1990. He served as a public relations director for the AFL-CIO from 1992 to 1999. From 1999 until 2011, he served as chief of staff for the union and held responsibilities ranging from grassroots outreach to the day-to-day organizing and development of AFL-CIO's staff department. He was elected president in 2011.