Ramarley Graham's mother speaks against NYPD trial for her son's killer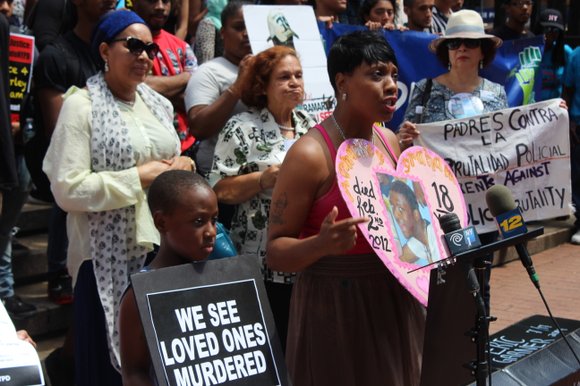 After the NYPD revealed last week Thursday that they plan on conducting a department trial for Richard Haste, a cop who unlawfully broke into a Bronx home, and then shot and killed unarmed 18-year-old Ramarley Graham during the afternoon of Feb. 2, 2012, his mother quickly responded.
"This seems like more of a political announcement than real news about accountability, and I'm tired of Mayor de Blasio and others playing politics with the NYPD's killing of my son," Constance Malcolm said in a statement released later that day. "Haste should face a trial on a number of charges and be fired for all of his misconduct, but the NYPD has given no date for the trial, timeline or even list of charges that he's facing."
Although the cop was charged with manslaughter four months afterward, Bronx Supreme Court Justice Steven Barrett vacated the manslaughter indictment, ruling prosecutors had given the grand jury flawed instructions. The following year, another grand jury declined to re-indict Haste on the manslaughter charge.
"This announcement on Haste doesn't provide any information on Sgt. Scott Morris, a supervising officer on the scene who's been on modified duty and received pay raises and overtime," she stated, "... or the rest of the 12-plus officers who engaged in misconduct in killing my son Ramarley."
Malcolm also wants the dozen or so officers who also forced their way inside and raided her home that tragic day while terrorizing her family to be held accountable and be charged with illegally breaking into her home "without a warrant or legal justification."
"This isn't only about Richard Haste and the actions of all the officers shouldn't be swept under the rug, because that is exactly what allows these killings to continue," Malcolm said. "All officers involved in misconduct related to police killings, brutality and abuse need to be held accountable. In this case, that includes Richard Haste, Sgt. Scott Morris and 12-plus other officers whose names the mayor refuses to release or hold accountable."
Malcolm also stated that the NYPD illegally detained and interrogated family members for hours on end.
In January 2015, a Graham family lawsuit alleging civil rights violations by the NYPD was settled for $3.9 million.