Talking SCHOP! Three days, three nights in Austin Part II
Kysha Harris, Food Editor | @SCHOPGirl | 9/30/2016, 3:40 p.m.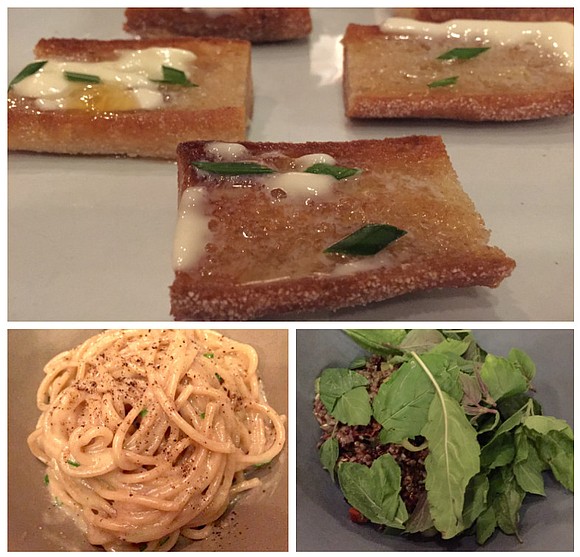 From our first night, Austin was proving to be the food gem my "girls weekend" crew and I thought it would be. Tremendous Tex-Mex margaritas at Pelóns (@PelonsAustin) including mine with blood orange liqueur! Then dinner at Dai Due Butcher Shop and Supperclub with those unforgettable boards of housemade spreads, meats and condiments.
On our first day, after being tourists and shopping on Congress Avenue, we stopped in at Prohibition Creamery (@boozyicecream) for something new and different, cocktails and ice cream and cocktails in ice cream. Owner Laura Aidan obviously put her spirit in this saloon-styled space.
We enjoyed a smorgasbord of frozen and liquid delights. The instant winners were the Sangarita of sangria and pineapple margarita sorbets topped with effervescent lambrusco (my absolute favorite sparkling wine), the Dammit Janet! milkshake of just good boozy stuff (reminded me of my stepfather's Brandy Alexander pie or his "kickapoo" juice) and the nonalcoholic PB&J ice cream and "peanut candy bar"-like milkshake.
Saturday night proved to be a transformative dinner for all of us and potentially marked one of our best meals ever. Seemingly par for the course since our last girls' weekend five years prior in NOLA, where Restaurant August implanted a never-to-forget experience in our brains.
This time the restaurant was Emmer & Rye (51 Rainey, 512-366-5530, www.emmerandrye.com). Named Best New Chef 2016 by Food & Wine magazine, chef and owner Kevin Fink and his team hope to take diners on a journey through his relationships with local, sustainable farmers and his passion for food, most specifically grains.
We began our meal with a bottle of Frappato and some Melon de Fuego tequila cocktails with watermelon agua fresca, lemon verbena and jalapeno, garnished with pickled watermelon rind. Fabulous! Our server answered our questions about the menu and informed us of the syncopated dim sum carts that promised to come around during the meal. These carts feature limited addition plates not on the menu. We were in for it all.
We must have enjoyed more than 20 shared plates from Emmer & Rye's savory and sweet menus—too many to dive into here. However, some highlights of the highlights (really the whole meal was a highlight of the weekend) were Oklahoma winter wheat baguette, crispy red rice salad, blue beard durum spaghetti and goat's milk panna cotta.
Never to be called simply bread and butter, the housemade wheat baguette was topped with whipped pork fond and sweet butter. The flavor was deep, rich and unforgettable. The red rice salad reminded me of a Thai Dominican "con-con," cooked and baked to a crisp and dressed with smoked sweet peppers, onion, mint and basil. A perfect dish!
Emmer & Rye took all of us elsewhere with their spaghetti, prepared cacio e pepe style and with Challerhocker cheese (now an addition to my favorites list). We stopped ourselves from ordering another. And the panna cotta, dressed with honeycomb, pecan granola and pomegranate, satisfied the not-too-sweet tooth, with crunch to boot!
There will be much more on Emmer & Rye on my blog, www.talkingschop.wordpress.com. Stay tuned!
Happy eating and thanks for reading!
Kysha Harris is a food writer, culinary producer, consultant and owner of SCHOP!, a personalized food service offering weekly and in-home entertaining packages. Questions? Comments? Requests? Feedback? Invitations! Email her at kysha@SCHOPnyc.com, follow her on Twitter and Instagram @SCHOPgirl or on Facebook www.facebook.com/SCHOPnyc. For even more recipes, tips and food musings subscribe to her blog at www.talkingSCHOP.wordpress.com. Follow AmNewsFOOD @NYAmNewsFOOD.