Activist Leola Maddox makes her transition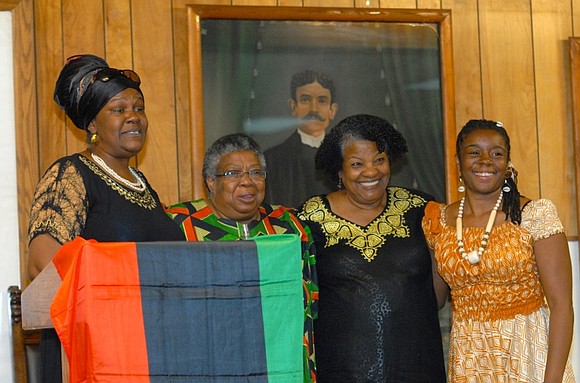 Activist and educator Leola Maddox (second from left), wife of famed attorney and activist Alton Maddox, has died. Working for the Liberation of African People, she also selflessly gave her services to the United African Movement. She was a native of Manchester, Ga.
In a statement sent to the AmNews, Alton Maddox said, "The cause of death of Leola W. Maddox is a work-in-progress. The investigation will include a motorcade to and from Meriweather County, Ga. There are multiple crime scenes between New York and Georgia. The death certificate will be published at the end of the investigation."
At press time, Linda Gillbeaux was the presiding officer of the weekly UAM forum at Brooklyn Christian Center (1061 Atlantic Ave., between Franklin and Classon avenues). Alton Maddox added, "We intend to write 'Lee's' death certificate and to preserve her legacy. This means settling the cause of death."
Funeral service for Leola are being held a Ebenezer Baptist Church on Auburn Avenue in Atlanta, GA on Monday, April 3, 2017 at 11 a.m. Dr. Calvin O. Butts will officiate over the homegoing services.
Roscoe Jenkins Funereal Home, in Newnan, Coweta County, Georgia, will prepare the body for ascension. She will join Rev. Alton Maddox, Sr. and his wife, Mrs. N.S. Maddox in the family plot at Sunshine Cemetery in Newnan, GA. Repast will happen at the Clay-Wood Community Center in Newnan.
Any expressions of condolences and memorials to the Maddox family should be sent to:
Alton H. Maddox, Jr.
c/o UAM
P.O. Box 35
Bronx, NY 10471