All-star musicians Les Amazones d'Afrique raise funds for women's rights
JORDANNAH ELIZABETH | 4/6/2017, midnight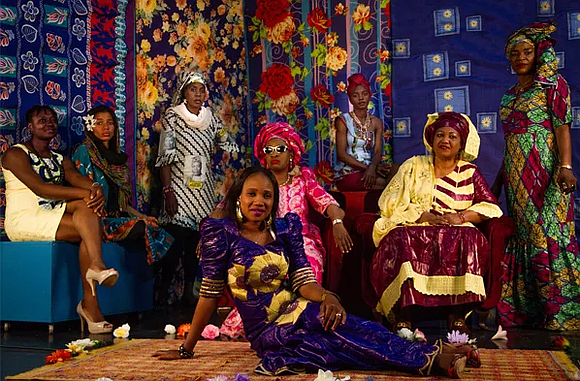 A powerhouse collective of West African women musicians, including Angélique Kidjo, Kandia Kouyaté, Mamani Keita, Mariam Doumbia, Mariam Koné, Massan Coulibaly, Mouneissa Tandina, Nneka, Pamela Badjogo and Rokia Koné, called Les Amazones d'Afrique have come together to collaborate on a new musical project called République Amazone.
The new album is described as "the sound of the diaspora of African music returning home, a reclaiming outside of genre and time. Equally at home on the dance floors of east London, or as part of an Awesome Tapes from Africa festival set in Croatia or blasting out of a cement brick house in Bamako, it showcases the sparkling range and versatility of its gifted songstresses."
The women have joined forces to promote the equal rights of women as West African women who live in the confines of post-colonial patriarchy, which brings oppression and silencing to its culture's Black woman. The powerful musicians of Les Amazones d'Afrique have chosen to use music as a weapon to fight the deep history of violence against women, sexual assault and abuse, the inequality in access to education and the horrific practice of female genital mutilation.
This collaboration of activism and unity was inspired by the formidable Dahomey Amazons, who are a legendary sub-Saharan band of female warriors highly-trained and armed to defend the Kingdom of Dahomey, in what is now modern-day Benin.
The women of Les Amazones d'Afrique have been fighting for women's rights since October 2015 when they played their first concert in Marseilles together. They donated the proceeds from the new album's first single and digital release to the Panzi Foundation, which is committed to fighting injustice against women.
Support this powerful collective of Black, West African women and the initiative they have launched to make the world a more equal and safer place for girls and women in West Africa.
The album is available on CD, vinyl and via digital release via Real World Records. For more information, visit https://realworldrecords.com/release/669/republique-amazone/.