De Blasio is off the hook. Now what?
Dr. Christina Greer | 4/6/2017, midnight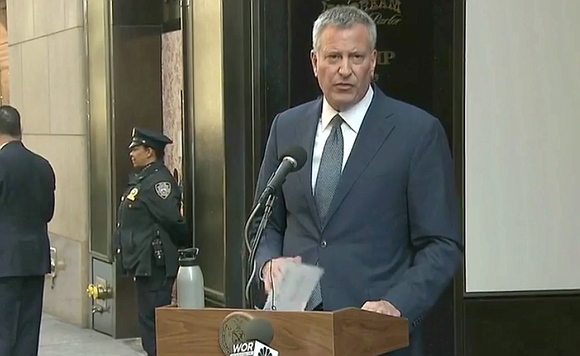 It was recently announced that Bill de Blasio, the Mayor of New York City, will not be indicted on several possible corruption charges, thus freeing him from the albatross that has hung around his neck for more than a year. Some New Yorkers are glad to see this long chapter end so that the mayor can focus on issues of grave concern to millions of people: affordable housing, education, homelessness, Rikers Island, transportation and making New York City a more affordable place to live and work. Others argue the mayor must drink Lucky Juice by the gallon and sleep with 1000 rabbits' feet each night. Whether the mayor should have been indicted or not is really of no concern to me. Perhaps it should be. However, as I look at the agenda that lies ahead, I yet again resort to quoting my late grandmother: "We have bigger fish to fry."
If all goes according to the mayor's plan, he will not be challenged by anyone in his party, thus freeing him from a contentious September 2017 Democratic primary. Time will tell, but with each passing day and the dissolution of possible indictments, the path to a September victory becomes much more difficult for Comptroller Scott Stringer, Bronx Borough President Ruben Diaz or Representative Hakeem Jeffries to wage a credible campaign against the incumbent mayor. And if the never-ending clown car continues, filled with Republican candidates and their varying allegiances to the president, Mayor de Blasio will likely cruise to re-election in November. (Do not forget to vote this November. It is an election year.)
If de Blasio is likely to win re-election, we as New Yorkers must think of ways to continue to pressure the mayor to deliver the goods and services we expect and need from him. I have been quite vocal about my desire for the mayor to commit to creating fair transportation fares for underserved New Yorkers who desperately need relief when using public transit. I am also eagerly waiting to see just how the mayor's homelessness relief plan is thought out. But what are your issues? Re-election is not inevitable. Even if the mayor is likely to win in September and yet again in November, something I actually think he deserves, how can we continue to support his agenda while also putting pressure on him to do more? The mayor must feel a sense of urgency from the electorate so that he enters his second term with a clear mandate and agenda. And if yet again Black and Latino voters will be the demographic that disproportionately delivers another Democratic victory, what issues must be made clear to the mayor, lest he forget who got him where he is today—and tomorrow?
I implore us to think deeply about what we need and how we can assist in accomplishing these goals. An active citizenry is the only way this republic will survive and thrive.
Christina Greer, Ph.D., is an associate professor at Fordham University, the author of "Black Ethnics: Race, Immigration, and the Pursuit of the American Dream," and the host of The Aftermath on Ozy.com. You can find her on Twitter @Dr_CMGreer.