Filibuster looms for Judge Gorsuch
Herb Boyd | 4/6/2017, midnight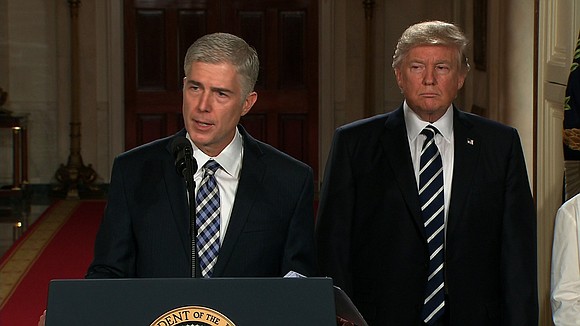 Supreme Court nominee Judge Neil M. Gorsuch has won the vote of three Democrats in the Senate. On the other hand, Monday the Democrats obtained the 41 votes they need to begin the filibuster this week, before the full Senate vote Friday.
Meanwhile, the Senate Judiciary Committee approved Gorsuch's nomination with a party line vote, 11 to nine.
With the impending filibuster, Gorsuch will need eight non-Republican votes to break the filibuster.
To counter the filibuster, should it hold, Republicans may enact the so-called nuclear option to change the longstanding rule and seat Gorsuch on the bench by a majority vote.
During the discussion by the Senate Judiciary Committee, the Democrats raised a number of issues that made it difficult for them to approve his nomination. High on the list is his record on workers' rights (a point that Sen. Dianne Feinstein hammered away on), his close ties to various conservative groups and his close ties to President Trump.
Sen. Frank Leahy of Vermont was particularly upset with Sen. Mitch McConnell of Kentucky and his promise to seat Gorsuch by any means necessary, even at the cost of wrecking the Senate.
"I cannot vote solely to protect an institution when the rights of hard-working Americans are at risk," Leahy said. "Because I fear that the Senate I would be defending no longer exists."
The Democrats opposed to Gorsuch told the press their vote was not governed by revenge for the Republicans' failure to even consider President Obama's nominee Judge Merrick Garland.
It may not look like revenge, but the results have a similar impact on Gorsuch's quest to fill the seat left by the late Antonin Scalia.