HGAR elects first Black president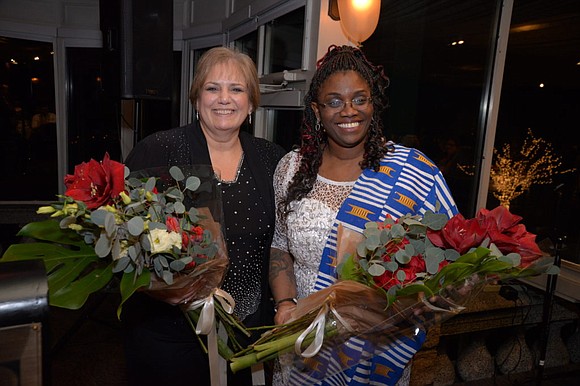 The Hudson Gateway Association of Realtors recently elected Dorothy Botsoe, owner of Jensen Realty, Inc. in White Plains, as the organization's first Black president since the association's inception in 1916. Botsoe has almost 30 years of experience working as a realtor in Westchester County. She opened her own brokerage in 1995. A native of Ghana, West Africa, she holds a BA from SUNY Purchase and has a background in business administration. As the 2017 president of the Hudson Gateway Association of Realtors, Botsoe's territory encompasses the counties of Westchester, Putnam, Orange and Manhattan, with more than 10,500 members.
Botsoe enjoyed having family members from around the world attend her installation Jan. 19, 2017, at Abigail Kirsh at the Tappan Hill Mansion in Tarrytown, N.Y. More than 300 members were in attendance. Also, Renee Zurlo, associate broker with BHG Rand Realty in Central Valley, was re-elected as the 2017 president of the Multiple Listing Service. Before the merger with former Rockland County Board of Realtors and Orange County Association of Realtors in 2012, RCBR elected its first Black president, Bill Thorne, in 2011. Before the election, Botsoe held positions on the Orange County Association of Realtor MLS Board of Directors for many years.
"This is a historic day for HGAR, as we welcome the first Black President in the 101-year history of our organization," said Richard Haggerty, HGAR CEO, at the affair. "I am proud of Dorothy and Renee at the helms of our organization."
For the year, Botsoe's main goal is to ensure that HGAR reflects its diverse geographic and demographic membership. "There are a lot of minority real estate professionals who are not visible," she stated. "My focus will be on inclusion … When we make decisions for our membership, I want our members to know we are making working for them. We are all different, and we must respect one another."
To properly introduce herself, Botsoe held a series of high tea events for all members in each county. It has been a wonderful opportunity, allowing her to meet and talk with HGAR members and network. "The makeup of HGAR's membership is constantly changing," she stated. "I believe that we also have to change. We have to include everyone in the process, making sure that all voices of our membership are heard."
The Hudson Gateway Association of Realtors is a not-for-profit trade association. Founded in 1916 as the Westchester County Realty Board, the current real estate trade association is now called the Hudson Gateway Association of Realtors, headquartered in White Plains, N.Y. HGAR owns and operates HGMLS. It's a 22,000 listing stretch from New York City to the Catskills and also includes Manhattan and the Bronx and Westchester, Putnam, Dutchess, Rockland, Orange, Sullivan and Ulster counties.