Links and La Femme Vet Network host second annual Military Women's Conference
4/6/2017, midnight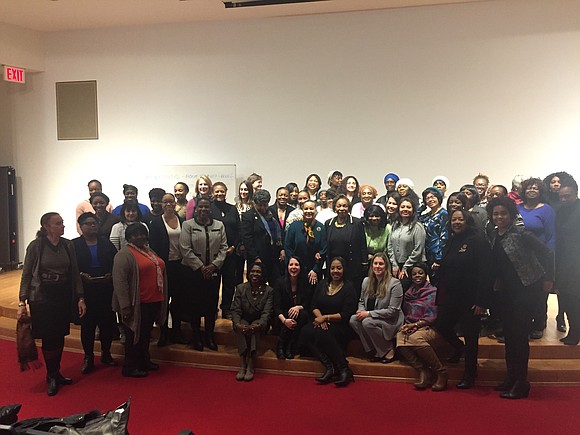 In celebration of Women's History Month, the Greater New York Chapter of the Links and La Femme Vet Network on March 10 collaborated on the second annual Military Women's Conference at the NYU Tandon School of Engineering. Veteran women throughout the New York City area attended the conference. After an array of breakfast delights, the program began with a full color guide. Ayanna Ahmand, veteran outreach program specialist; Gail Monroe-Perry, GNY Links chair of Women's Issues; and Dr. Marcella Maxwell, a former president of the GNY Links presented opening remarks.
Monroe-Perry said that the organization is thrilled to have the opportunity to be a partner in coordinating the program and to be a sponsor for the Military Women's Conference. "As Links we understand the importance of creating and facilitating programs to provide options for the Women Veteran's population," she remarked. "This conference is one of several initiatives we have to expand the capacity to address the growing need to assist veteran women in re-engaging in their communities. This is a very special day full of celebration, education and sisterhood. We are delighted to be a part of it"
The program master of ceremonies was Jordanna Mallach, program coordinator, NYS Division of Veteran Affairs. Inspirational messages from Letitia James, public advocate for the City of New York, and keynote speaker Assistant Commissioner Darlene Brown-Williams, Ph.D., were highlights of the day. Workshops were an important part of the program: Veteranpreneurship, led by Amy Amoroso, director, Veteran Business Outreach NY/NJ; Career Development, coached by Roseanne Forde and Tara Carlidge from Citibank; Warriors to Soulmates, presented by Milagros M. Andino and Chaplain Elizabeth Putnam; and Money Matters, presented by Lynn Karam, president of LFK Management, Inc. The attendees also had an opportunity to explore small businesses and resources selected especially for women veterans with the Vendor Resource Expo.
The collaborative team of the Greater New York Chapter of the Links Women's Issues Annie Gala, Lauryn McKelvie, Carrie Taft, Sandra Sanchez-Rolon and Stephanie Addo were the organizing force behind the successful day.
Maxwell, an award-winning educator, stated "I understand the unique and often unrecognized challenges of life after the military for women. It has been one of the driving forces for me to advocate on behalf of veteran woman by providing a wide range of support with programs like today."