The Mann's World Family Tour brings music to Brooklyn
LAPACAZO SANDOVAL | 4/6/2017, midnight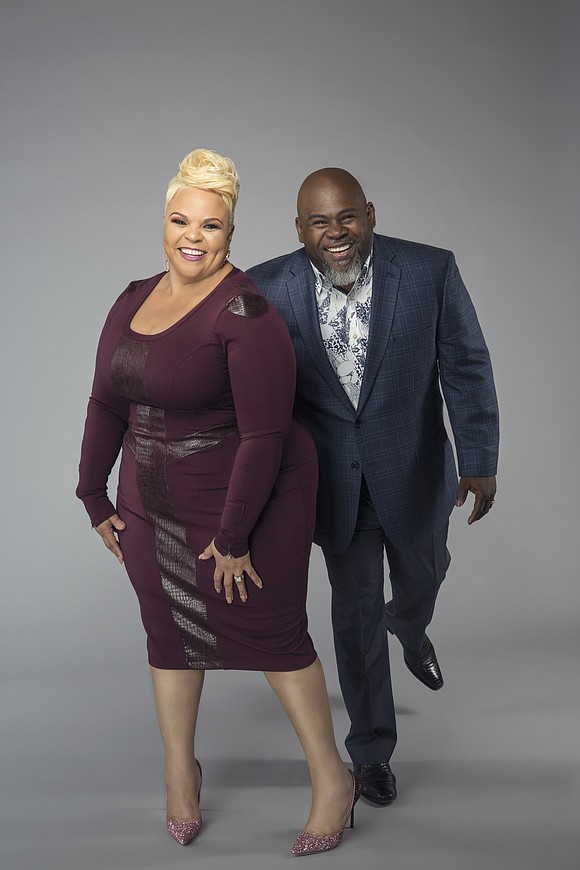 David and Tamela Mann's new TV One show, "The Manns," which premiered April 4 and will run Tuesday nights at 8 p.m., ET, has every ingredient for a bona fide hit show, and one without the negative stereotypes and lavish parade of bad behavior that has colored reality television in the past.
The central action revolves around the Mann's four grown children, eight grandchildren and a slew of equally colorful friends, extended family and other characters who enrich the lives of the entertainment power couple. Two keywords must be highlighted—power and couple. With recording careers, touring, filming and managing an outrageous family, the powerful couple often find themselves negotiating from the conference table to the kitchen table while showing viewers the day-to-day challenges, successes, heart break and joy that happens behind the scenes. The Manns have been married for 29 years, and the love and respect continues to grow.
 Just in case you think this reality show is just a big love fest, it is not. "The Manns" has enough drama and hilarious dysfunction to make any reality series fan happy, but the love that the family shares is so undeniable that you can see it, clearly, with both eyes tightly shut, in a dark room, at night.
Here is a brief expert for an early morning interview with the Manns.
AmNews: I am so excited that your new reality series, "The Manns," is filled with emotion but not the negative back stabbing that most series favor. Like, thank you.
David Mann: That is exactly what we wanted to do. To steer away from the negativity that has been a part of reality series [in the past]. [I think] The problem is that was all we were feeding people and that's all they had to eat, so we wanted to be a different entree on the menu. Look, not all families behave that way. Like, some families genuinely love one another, which is true about our family. Some families know how to handle issues. We have the same issues that you have, but we want to show you a different way to solve and handle those issues.
AmNews: The love between you two is crystal clear, but I also think—I see that you both like each other. Is this correct?
David and Tamela Mann: Yes. Yes, we do. We really like each other.
Tamela Mann: We enjoy each other's company. It's not always about spending money. Sometimes it's just hanging out at home and going to get a hamburger or a sandwich and come back home and just eat the sandwich, not necessarily having to be out all the time.
In our family we put the fun in dysfunctional!
We always like being around each other. We have a good time and even when we do have a spat or [a] disagreement, it's like we all want to get an understanding because our family realizes, and we taught them that, [that] family is all you have and you got to get along. You have to get along, no matter what. And we just want to work toward that and show other families where they can work together too and enjoy each other.
AmNews: Tell me what you love about performing onstage?
Tamela Mann: For me singing is my first love. Something just comes over me. It's just like an enjoyment or a pleasure beyond. When I perform, I go to another dimension.
David Mann: We are on tour now. In New York we performing April 7. You can check our full tour dates at our website http://www.tillymannmusic.com/events.html.
Follow David and Tamela Mann via social media: @tvonetv, #TheManns and @DavidandTamela.