NYC Black women rally for Maxine Waters and April Ryan
OLAYEMI ODESANYA | 4/6/2017, midnight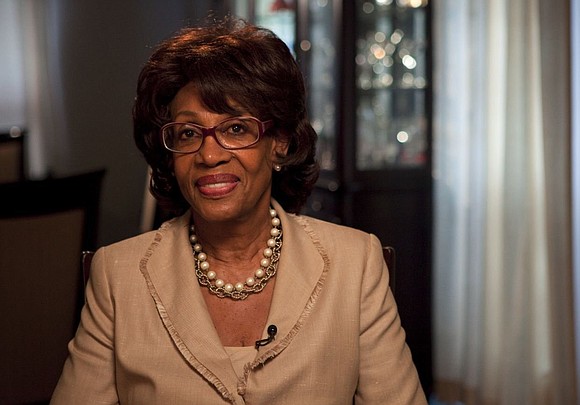 Ultimately victorious were the 20,000 women in apartheid-ripped South Africa, who on Aug. 9, 1956, marched on the Union buildings in Pretoria to protest against The Urban Areas Act of 1950. Condemning the terrible 'pass laws' they sang, "Wathint'Abafazi Wathint'imbokodo! Now you have touched the women, you have struck a rock." It was to become an international slogan.
Sunday morning, April 2, 2017, Dr. Karen S. Daughtry hosted a news conference at the historic House of the Lord Church, Brooklyn, N.Y., where she is pastor and the Rev. Dr. Herbert Daughtry is the National Minister.
A notable collection of Black elected officials and activists gathered "to denounce the racist and demeaning remarks made by Bill O'Reilly about Hon. Maxine Waters' hair and to call for his dismissal, and to highlight and condemn the present dangerous climate which allows and condones the racist behavior and actions unleashed by the election of the 45th president of the United States."
The women also gathered to slam White House Press Secretary Sean Spicer's disrespect of American Urban Radio Networks correspondent April Ryan when he insisted that she stop shaking her head as he answered a question.
At the news conference Sunday was Susan L. Taylor, former editor-in-chief of Essence Magazine, now founder and CEO of Cares Mentoring, Inc.; City Councilwoman Inez Barron; Viola Plummer of the December12th Movement; and other community activists.
"As Black women, a voting block to be reckoned with, we will not stand silently by without challenging those who have found renewed hope and public acceptance in airing their demonic views in the public square," said Daughtry. "The news conference [was held] in support of Hon. Maxine Waters in particular and Black women, in general, in response to both the racist and demeaning remarks made by Bill O'Reilly about our sister Maxine's hair and also to address the onslaught of numerous racist and disparaging words and deeds perpetrated against people of color in this country.
As Black women, with a voting record unsurpassed by none, we refuse to stand silently by as those who have found renewed hope in and public acceptance for their heretofore latent and unspoken racist beliefs which have been unleashed and given public acceptance by the climate created by the election of the 45th president of the United States. Mother Maxine said, and I quote, 'I am a strong Black woman, I cannot be intimidated and I am not going anywhere.' As women of faith, we understand that it is Sunday and many of us will either be at church or on our way to church, but we urge you to join us as we stand together and speak out as strong Black women, who cannot be intimidated and are not going anywhere."