Talking SCHOP! Tsion Cafe wins first Citi Challenge
KYSHA HARRIS, AmNewsFOOD Editor, @SCHOPgirl | 4/6/2017, midnight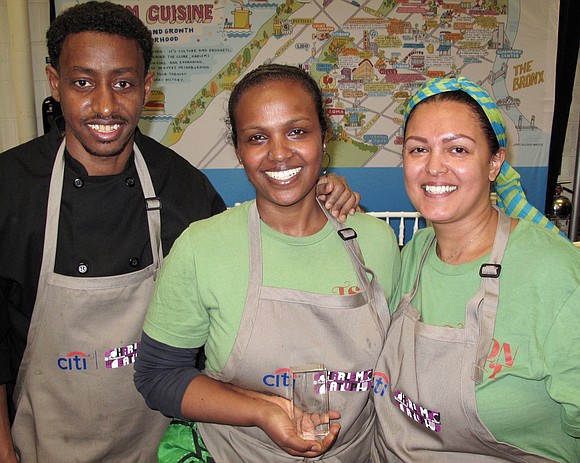 Last week I had the honor of being one of the judges at East Harlem's Hot Bread Kitchen (@HotBreadKitchen) for the first Harlem Market Challenge, created and sponsored by Citi (@Citi) in partnership with the Harlem EatUp! Festival (@HarlemEatUp). Three Harlem restauraunts, new to the community and to participation in Harlem EatUp!, competed to showcase their food inside the Citi tent during the festival.
At host Bevy Smith's direction, and with the distinguished and diverse panel of judges, helmed by Marcus Samuelsson, co-founder of the Harlem EatUp! Festival, at the ready, the competition began. Restaurants Belle Harlem (@BelleHarlemNYC), Tsion Café (@CafeTsion) and Harlem Pizza Co. (@HarlemPizzaCo) hit the burners, cutting boards and plates with no more than 45-minutes to spare.
We judges were able to walk around and talk with the contestants in the throes of battle. My first stop was to talk with chef Jonathan Shepard of Harlem Pizza Co. I am in love with their pizza, specifically the Lexington. However, they were presenting another facet of their menu. His team was making the most tender meatballs and the most delicious Nutella tiramisu I have ever eaten.
I saw fellow judges Maile Carpenter, founding editor of Food Network Magazine, and my former music business colleague and now chef, Jarobi White, A Tribe Called Quest member, hovering over chef Darryl Burnette of Belle Harlem. This new, small 12-seater chef's table restaurant was doing big things. He hit us three-ways-to-Sunday with smoked Gouda mac-n-cheese spring rolls and spicy sweet bacon jam, a dessert trifle and a ginger sorrel cocktail. Ouch!
Judge Melba Wilson, owner of Melba's, and I sidled up to chef Beejhy Barhany of Tsion Café while she was sautéing the greens as part of her winning Ethiopian style taco with yellow lentil puree, stewed chicken and housemade ricotta on that famous injera bread. Blew us away! Congratulations!
Look out for Tsion Café's winning dish and all of the contestants at The Harlem Stroll in Morningside Park as part of the third annual Harlem EatUp! Festival, May 15-21, 2017. Visit www.harlemeatup.com for information and to purchase tickets.
Happy eating and thanks for reading!
Kysha Harris is a food writer and editor, culinary producer, consultant and owner of SCHOP!, a personalized food service in NYC for more than 15 years. Follow her on Twitter and Instagram, @SCHOPgirl, on Facebook, /SCHOPnyc, and her blog, www.talkingSCHOP.wordpress.com. Questions? Comments? Requests? Feedback?  Invitations!  Email AmNewsFOOD at AmNewsFOOD@SCHOPnyc.com. Follow us on Instagram, Twitter and Facebook @NYAmNewsFOOD and tag us with #SoAmNewsFOOD with your food finds!