Thoughts of redemption by the time they got to Phoenix
Vincent Davis | 4/6/2017, midnight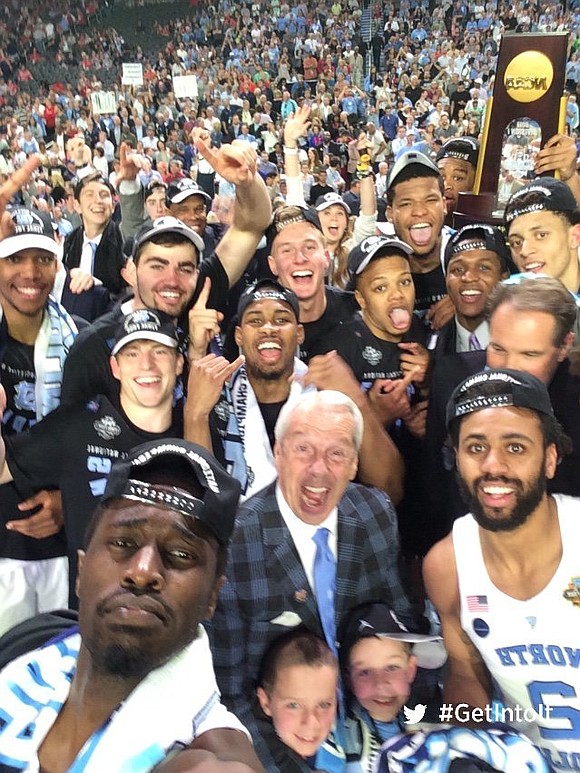 With four minutes left in the first half, the Gonzaga Bulldogs looked to increase their seven-point lead over the Carolina Tar Heels in Monday night's NCAA national championship game held at the University of Phoenix in Glendale, Ariz.
Carolina's shot selection was poor. They forced unnecessary jumpers and deep twos, and missed threes in front of the 76,168 in attendance and the national television audience. They were impatient in their shot selection.
With seconds to go to end the first half, Roy Williams, head coach of the North Carolina Tar Heels displayed his displeasure. Unhappy about their performance, probably exasperated by sophomore guard Josh Perkins' three putting Gonzaga up 28-21, Williams wasn't shy about expressing his feelings to his players. A display of tough love. Maybe it was the thought of their close, two-point win over Kentucky or their narrow, one-point win Saturday over Oregon to get them here that upset him. Maybe it was the semifinal loss to Duke in the ACC tournament, or the thought of losing the championship last year at the buzzer, and now watching this one slip away. That would be two NCAA championship losses in a row. 
Despite their poor shooting and poor shot selections, Carolina was only down by three at the half. 
"Some of them were short," said sophomore Carolina guard, Joel Berry, recently heeled from an ankle injury, "but the ones that we needed went in." 
Carolina made adjustments in the second half, not allowing Gonzaga the variety of shots that they were afforded in the first half. The Bulldogs missed shots, too. Big man, 7-foot-1 senior, Przemek Karnowski, 1-8 in field goal shooting, missed several contested under the basket shots. 
Not losing was foremost on the mind of Carolina's players, the only redemption from last year's tournament defeat by Villanova.
"We wanna forget about last year," said Berry, the games MVP. "All we had on our minds was redemption."
Thy game was a one seed versus a one seed, a one versus last year's runner-up, a first time ever appearance in the national championship for Gonzaga versus the Carolina Tar Heels, the five time NCAA champions, the team on which the persona and greatness of Michael Jordan were born. 
Gonzaga had one good run left in them to win. They were undaunted by the moment, but in the final two minutes, a battle to the end, UNC came up with multiple plays and stops to secure the Tar Heels sixth NCAA championship, the third for Williams. "I think this group was tough enough tonight," he said in elation.
"It was a slugfest out there," stated Gonzaga's head coach, Mark Few. "It's two teams that desperately wanted to be crowned national champions."
Isaiah Hicks, the 6-foot-9 senior forward whose lay-up put Carolina ahead by three with 26 seconds left to play said, "It's the best feeling I've ever felt."