William T. Coleman Jr., 'Counsel for the Situation' and civil rights icon
Herb Boyd | 4/6/2017, midnight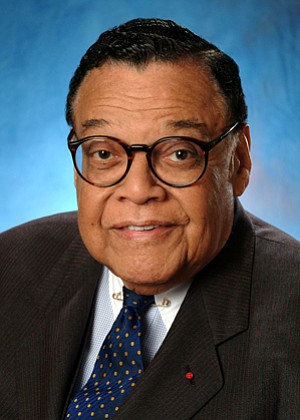 William Thaddeus Coleman Jr. was called "Bumps" by Coleman Young, Detroit's first African-American mayor during their stint in the military, and President Clinton honored him with a Presidential Medal of Freedom. But Coleman, or "Bumps," is best remembered for his talent and tenacity as a civil rights attorney and advocate. Those memories now abound in countless obituaries. He was 96 when he died Friday at his home in Alexandria, Va.
He had lived with his wife of 70 years, Lovida, at a care facility.
Reading Coleman's resume is to revisit nearly every milestone of civil rights history, from his early days with Thurgood Marshall to his arguments before the Supreme Court in the 1980s.
Coleman was born July 7, 1920, in the Germantown section of Philadelphia. His father was director of a Boys' Club for 40 years and his mother, the former Laura Mason, taught German.
The Coleman family had a long an illustrious genealogy, including one distant ancestor who was a conductor on the Underground Railroad and six generations of teachers and Episcopal ministers on his mother's side and social workers on his father's side.
During his formative years, Coleman was introduced to racism and experienced an incident that was very similar to one Malcolm X encountered. After a remarkable presentation in the 10th grade, he was told by his white teacher that one day "you will make a wonderful chauffeur." When Malcolm was told by his teacher not to aspire to becoming a lawyer but resign himself to being a carpenter, it turned him away from school. Coleman was a little more outspoken. He cursed his teacher and was suspended.
Coleman was suspended a second time after he sought to join the school's all-white swim team. After his suspension was lifted, he recounted in his memoir, "Counsel for the Situation: Shaping the Law to Realize America's Promise" (2010), the team disbanded rather than admit him. It regrouped after his graduation.
At the University of Pennsylvania, Coleman was a superb student, graduating summa cum laude with a double major in political science and economics in 1941. Two years later, after being accepted into Harvard Law School, he joined the Army Air Corps, at the time questioning himself why he was going off to fight for freedom and liberty when racial segregation was so rampant in the U.S.?
His basic training began in Mississippi, with the African-American pilots, many of whom would be among the legendary Tuskegee Airmen. Like his fellow soldier, Coleman Young, he never became a pilot. He did, however, earn a reputation defending the Black officers, including Young, who challenged the officer's club segregation policies. While on leave from the Army, he married Lovida Mae Hardin, a native of New Orleans, who was studying for a degree in education at Boston University.
After discharge from the military in 1945, Coleman returned to law school and was accepted by the Harvard Law Review—its first Black staff member. In 1947, he was the top graduate in his class.
His first notable stop after law school was as law secretary to a federal appeals court judge in Philadelphia. The next job was even more noteworthy: In 1948, as a law clerk for Justice Felix Frankfurter, he became the first African-American to hold such a position.