Harriette Cole moderates latest DreamLeapers Behind the Scenes fashion event
Nadine Matthews | 4/13/2017, 12:49 p.m.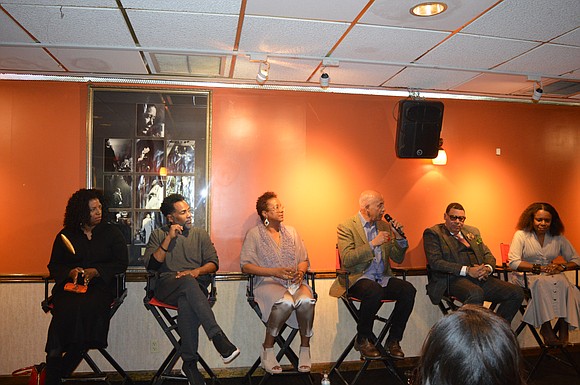 Food and drink generously provided by famed soul food eatery Sylvia's flowed freely on the recent evening when Harriette Cole, founder of DreamLeapers Initiatives did a deep dive into the fashion world. Cole moderated panelists Princess Jenkins, clothing designer and owner of The Brownstone, a lifestyle boutique in Harlem; Women's Wear Daily fashion photographer George Chinsee; magazine stylist Carlton Jones; Guy Wood, owner of 5001 Flavors and Harlem Haberdashery; and veteran Wall Street Journal fashion writer Teri Agins. This gathering was the latest DreamLeapers Salon event, and it focused on providing all the right answers for those seeking to break into the fashion industry.
Cole owed some of her adroitness at asking the correct questions of panelists to her career as a journalist and her long relationship with fashion. At the beginning of the evening, Cole shared that she originally "moved to New York City to work in fashion." She worked at Essence magazine first as the lifestyle editor, and then as the fashion editor. First up was Jenkins, who explained that for her the key to success in retail is to "be kind to people, be fair to people, have a great product, and wonderful customer service." Jenkins elaborated that being kind to people included taking an interest in their lives or as she put it, "go on their life journey with them." Jenkins has witnessed a number of customers who loved clothing actually be buried in clothing purchased from her boutique. Their family members would tell her how much the customer loved this or that outfit and felt that they would want to be adorned in it on their journey to the afterlife.
In his capacity as a magazine stylist for storied publications such as Essence, Harper's Bazaar, Rolling Stone, The Source and Vibe, Carlton Jones has worked with Lenny Kravitz, Michelle Obama, Natalie Portman, Nikki Minaj, Samuel L. Jackson and many other superstars. The challenge for stylists who Cole defined as those who, "create the images that drive people to stores," is to get access. For Jones, a pivotal shift in his career came when he got to work with Queen Latifah for one of her albums, just when she was trying to change her image from just a hip-hop artist to the softer, more mainstream artist. "I believe I was the first stylist who put her in a dress," he said. He recalled that this time was a vulnerable time in her personal life. She had just lost her brother in a tragic accident. Contacts, he explained, were the key to opportunities that came his way. "When they say it's who you know, it's so much who you know," he said. The other dimension is being someone people want to work with or recommend after that first meeting. He said, "Be personable. Be that person that it is easy for people feel
it cool to be with."
Jamaican-born Chinsee, who has been married to Cole for 23 years, has worked at fashion bible Women's Wear Daily for more than 30 years. Chinsee emphasized knowledge of craft as well as the importance of relationships. A spontaneous offer to help an acquaintance renovate her home led to an introduction to renowned photographer Irving Penn, and that launched his career.