McDonald hitting her stride at LIU
Lois Elman | 4/13/2017, 2:17 p.m.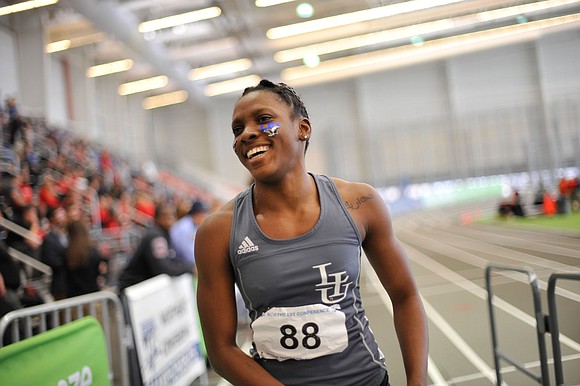 Sprinter and hurdler Shantae McDonald of Long Island University wasn't that happy with her performances at the start of outdoor track and field season, but the results would beg to differ. Last week, she was named Northeast Conference Female Track Athlete of the Week for her performance at the Texas Relays.
"You don't necessarily get what you want when you open up. With that time [from Texas Relays] I'm currently leading the conference. That's good. This weekend, I hurdle again. I hope to improve and open that gap against the competition," said McDonald.
McDonald competes in multiple events—the 100-meter dash, 100-meter hurdles, 200-meter dash, 400-meter dash, 400-meter hurdles and relays. The mechanics of the 100-meter and 400-meter hurdles are considerably different.
"There are different stride patterns and you have to adjust, especially in conference where you have them back-to-back," she said. "For the 400, you have to pace yourself. You can't go all-out. It's who will survive after 200 or 250 meters."
McDonald grew up in Jamaica, West Indies. In her last two years of high school, the idea of attending college in the U.S. became a realistic prospect. She hasn't had a lot of international experience, but her high school did send a team to the Penn Relays. Looking to the future, she hopes to represent Jamaica on the international stage, and this summer she'll train at home in the hopes of earning a spot for the World Championships to be held in London this August.
Although she is surrounded by several other track athletes from the Caribbean, McDonald appreciates the cultural variety that LIU and New York City offer. She enjoys meeting so many different people.
Her major is political science and her minor is criminal justice. Long-term, McDonald hopes to attend law school. For now, there is track, which she will probably continue for a few years after college. She appreciates how LIU coach Simon Hodnett has helped improve her confidence and technique.
"Believing in his program and knowing it will work for me," McDonald explained. "I do get homesick, but it's worth it coming here, getting an education and getting to do what I love, which is track."
This weekend LIU track and field competes in Greensboro, N.C.