Meals on Wheels recipients threatened under proposed Trump budget
Darlene Aderoju | 4/13/2017, 12:55 p.m.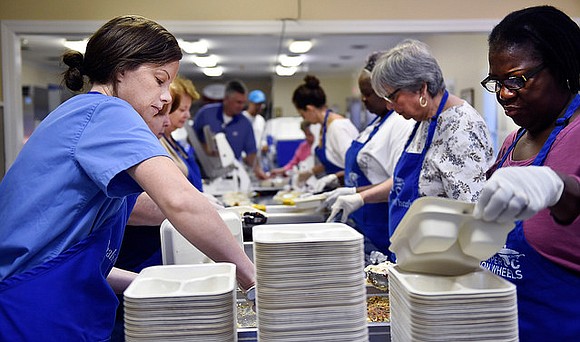 WASHINGTON—Charles Abel, a 65-year-old man living in Baltimore, is among the millions of Americans who rely on Meals on Wheels, a program that President Trump plans to cut dramatically under his budget proposal.
At a March news conference, White House Budget Chief Mick Mulvaney said, "Meals on Wheels sounds great." But he claimed the program doesn't provide a real service.
He added, "We're not going to spend [money] on programs that cannot show that they actually deliver the promises that we've made to people."
Abel, a cab driver for 27 years who now struggles with chronic obstructive pulmonary disease, begs to differ.
"If it wasn't for Meals on Wheels, I'd be a lot skinnier," he said. "If I was left without them, I would not be eating as healthy as I am. I'd be surviving on sandwiches and McDonald's."
And it's not just the meals.
"Sometimes the Meals on Wheels people are the only people I talk to in a day, and they're nice people," Abel said. "One of the guys is a serious Beatles fan. So, whenever he finds new songs, he burns me a CD."
Meals on Wheels delivers food to seniors and individuals with disabilities who cannot go to the store to purchase their own food. Approximately 2.4 million people receive meals from 5,000 locations nationwide, according to Jenny Bertolette, vice president of communications at Meals on Wheels America.
Under Trump's proposed budget to Congress, services that are funded by the Community Development Block Grant program could get cut, including Meals on Wheels. Trump's budget eliminates Community Service Block Grants, approximately $13 billion, according to the Congressional Research Service.
Local branches of Meals on Wheels depend heavily on federal funding.
"In Alabama, Meals on Wheels is a lifeline for thousands of low-income seniors, veterans and the disabled," Rep. Terri Sewell (D-Ala.) said in an email. "Cutting funding for this program means condemning those in need to a life of hunger and isolation."
More than 42,000 seniors in Alabama rely on Meals on Wheels and 90 percent of recipients in Alabama say the service makes them feel safe and secure, according to a Meals on Wheels report.
One of the oldest and largest programs is Meals on Wheels of Central Maryland, which serves an area that includes Baltimore, Baltimore County, Anne Arundel County, Howard County, Carroll County and parts of Montgomery County, its officials said. It receives 56 percent of its budget from the federal government.
"We serve about 1,500 clients daily," said Guy Arceneaux, senior director of marketing and communications at Meals on Wheels of Central Maryland. "Every $8 taken from our budget is a meal for a senior that will never be served."
Approximately 27 percent of clients of Meals on Wheels Central Maryland are African-American, according to Arceneaux.
The Maryland budget for Meals on Wheels is $8.5 million, he said. If the federal government halts funding, the program would lose nearly $5 million.
"Consequently, the program will have to reduce the number of people it serves," he said.