Meals on Wheels recipients threatened under proposed Trump budget
Darlene Aderoju | 4/13/2017, 12:55 p.m.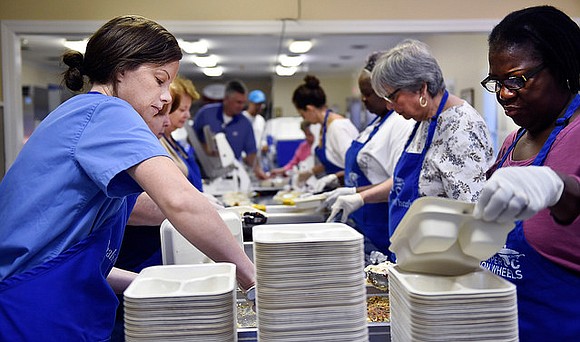 "That means going from delivering meals five days a week to three, or two meals a day to one. Programs already can't keep up with demands. So, they'll have to add seniors to waiting lists or in the worst case scenario, they would have to turn seniors away and people relying on the service now would not be able to get it anymore."
Retired nurse Dorcell Walker, 65, is a Meals on Wheels of Central Maryland client. Walker has Parkinson's disease and lives alone in Baltimore, where she's resided for more than three decades.
Walker uses a wheelchair, which she said makes it difficult for her to move around the kitchen.
"Parkinson's is debilitating and crippling, and it's hard to hold a pot, because I shake and I'm weak," she said. "It's dangerous for me. Meals on Wheels delivers hot and cold meals in a container that's lightweight enough for me to handle. Meals on Wheels is a godsend to me."
Meals on Wheels of Central Maryland provides other services, including safety and wellness checks, companion visitors, grocery shopping assistance, home repairs and pet food delivery.
John McDuffle, 67, has lived in Baltimore for 40 years. His late wife received Meals on Wheels and now he's enrolled in the program.
"They really help me so I don't have to go outside if it's cold or snowy, or too dark," he said. "The volunteers respect me, and they always come when they say they're going to."
Bertolette said Meals on Wheels needs bipartisan support.
"Both sides need to do their part to make sure these seniors aren't forgotten," she said.