Nuked by the GOP
Herb Boyd | 4/13/2017, 11:02 a.m.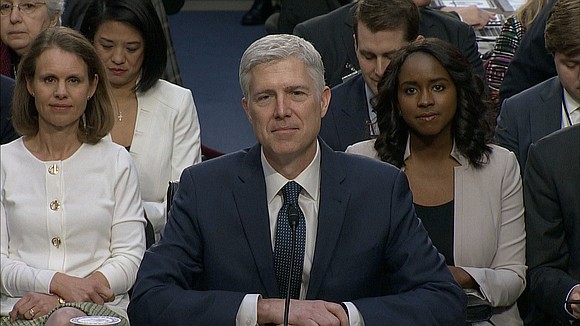 Judge Neil Gorsuch was sworn in as the newest member of the Supreme Court Monday, and it is conceivable that Democrats will be swearing and cursing for years after a nuclear option was a determining factor. Succeeding the late Antonin Scalia was not an easy route for Gorsuch as Democratic senators were poised to filibuster his nomination.
But that tactic was foiled when the Republican senators resorted to the nuclear option that allowed a majority vote rather than the 60-vote for confirmation. This action removes any doubt about the existence of bipartisanship.

In the first of two swearing-in ceremonies, Chief Justice John Roberts administered the oath, and Gorsuch, 49, was surrounded by his wife, Louise, and their two daughters.
The second ceremony will be a public one at the White House with Justice Anthony Kennedy, Gorsuch's former boss, administering the judicial oath.
Many of the Democratic senators opposed to Gorsuch's nomination—four of them voted for him—said their vote against him had nothing to do with a vendetta after the Republicans refused to have a hearing on President Obama's choice, Judge Merrick Garland.
During Gorsuch's appearance before the Senate Judiciary Committee he took a grilling from Sens. Patrick Leahy, Al Franken and Dianne Feinstein. Feinstein was particularly aggressive in her interrogation of the nominee's position of workers' rights, which she viewed as unfavorable.
As Gorsuch assumes his seat on the bench, there are a number of critical cases on the docket, including Bank of America v. Miami in which the court was divided when it heard arguments in November on whether the city of Miami could pursue lawsuits accusing major banks of predatory mortgage lending to African-American and Latino homebuyers.

In this case and others, Gorsuch's conservative vote could be the difference.