NYC Health + Hospitals/Kings County gets largest fleet of state-of-the-art ventilator equipment  
4/13/2017, 11:58 a.m.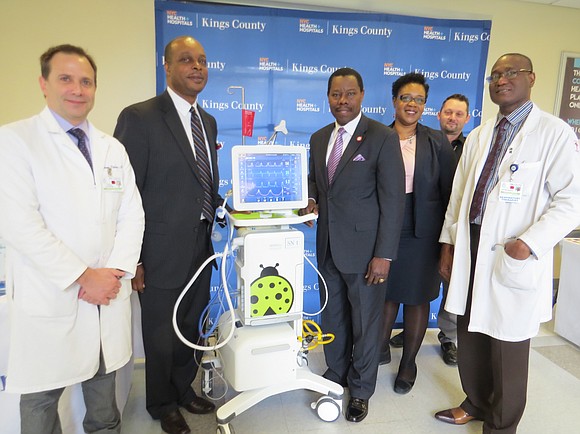 NYC Health + Hospitals Kings County has recently made a large investment in cutting-edge critical-care technology to provide patients with the best possible care. Kings County owns the largest fleet of the latest generation of Maquet Servo critical care ventilator equipment in New York City, providing advanced clinical technology.  With funding provided by the New York City Council and sponsored by Council Member Mathieu Eugene, the hospital has been able to install 15 adult ventilators (Maquet Servo-u) and five neonatal (Maquet Servo-n) ventilators. No other hospital in Brooklyn has this type of sophisticated neonatal ventilator.
This purchase advances NYC Health + Hospitals/Kings County's neonatal and adult critical care capabilities to the forefront of emerging technology. All pediatric and adult intensive care units will benefit enormously from this state-of-the-art equipment.  The neonatal ventilators offer a much higher level of sensitivity to newborns who need assistance with breathing, thereby improving their survival. 
April 5, Eugene joined hospital CEO Ernest J. Baptiste for a demonstration of the adult and neonatal ventilators, which are now in operation. 
"As a level 1 trauma center, this new fleet of ventilators will be vital for saving lives, especially our children," said Baptiste. 
"I want to thank the hospital staff for your dedication and vision to improve health care in our community," said Eugene. "What we do to provide funding is nothing compared to what you do every day at Kings County Hospital to save lives."