Tribeca Film Fest April 19-30
Lapacazo Sandoval and Art Shrian | 4/13/2017, 12:19 p.m.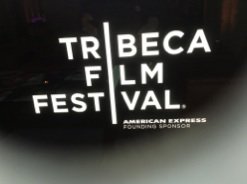 It is time for the annual Tribeca Film Festival when die-hard cinefiles get that wild, giddy expression. The selection continues to grow, and the 2017 Tribeca Film Festival, presented by AT&T, experienced a high record number of submissions. Cara Cusumano, in her new role as director of programming, along with Artistic Director Frédéric Boyer, narrowed down the selection to 32 films in competition: 12 documentaries, 10 U.S. narratives and 10 international narratives. The Spotlight Narrative section features 15 fiction films, while 16 nonfiction films will premiere in the Spotlight Documentary section. The Midnight section features five heart-stopping narratives and one
documentary premiere.
In this current political climate in which the presidential administration is attempting to use fear and division to help push its racist and sexist agendas to the people, the need for artists to express their opinions and present truth has never been more present.
"It's uncertain and tumultuous times like these that we need artists and storytellers the most, and this year's program is a testament to the unending capacity of film for impact, empathy and even much needed escapism," said Cusumano.
"In the current climate, both in the literal and political sense, it is more important than ever to elevate stories about the moments we are going through as a nation and as global citizens," said Paula Weinstein, executive vice president of Tribeca Enterprises. "We were really moved by this group of projects that reflect our world and the critical tipping point we have reached."
Boyer commented, "This year's film slate is perhaps our most varied yet in both the generosity in the stories told and the diversity of the styles of filmmaking, with the international films transcending geographical boundaries."
Below are some highlights:
"The Wedding Plan," directed and written by Rama Burshtein. Spirited bride-to-be Michal is dumped by her fiancé a month before their wedding. Undeterred, she keeps her wedding date. Highly recommend!
"Saturday Church," directed and written by Damon Cardasis. Ulysses is a shy and effeminate teen being raised in the Bronx by his strict Aunt Rose. With Regina Taylor.
"Holy Air," directed and written by Shady Srour. Desperate to care for his pregnant wife and ailing father, Adam (writer/director Shady Srour) embarks on his latest, riskiest business venture: selling bottled holy air.
"King of Peking," directed and written by Sam Voutas. Big Wong and his son Little Wong are traveling film projectionists, screening Hollywood movies for local villagers. A love letter to cinema.
"Newton," directed by Amit V Masurkar. India, the world's largest democracy, is preparing for an election—and with more than 800 million voters, it is a logistical puzzle of epic proportions.
"Sambá," directed by Laura Amelia Guzmán and Israel Cárdenas. Cisco has his back against the ropes. After spending 15 years in an American jail, he has returned to the Dominican Republic but is unable to get a job.

"Copwatch," directed by Camilla Hall. The true story of We Copwatch, an organization that films police activity as a non-violent form of protest and deterrent to police brutality.
"The Death and Life of Marsha P. Johnson," directed by David France. Featuring never-before-seen footage following a new investigation into the mysterious death of self-described "street queen" Marsha P. Johnson, one of the courageous Black transgender activists who spearheaded the modern gay civil rights movement.
"Dabka," directed and written by Bryan Buckley. A rookie journalist has an inspiring chance encounter with his idol (Al Pacino), uproots his life and moves to Somalia. Based on the true story of an unprecedented first-person account of the pirates of Somalia.
"Frank Serpico," directed and written by Antonino D'Ambrosio. With unprecedented access to a notoriously reclusive subject, D'Ambrosio creates a powerful portrait of Frank Serpico, the former NYPD officer who in the 1970s blew the whistle on the corruption and payoffs running rampant in the department.
"A Thousand Junkies," directed by Tommy Swerdlow. Three heroin addicts crisscross Los Angeles in search of relief in this comedy balanced on the fine line between reliance and dependence.
To follow everything about the festival:
www.tribecafilm.com
Twitter: @Tribeca
Instagram: @tribeca
Facebook: facebook.com/Tribeca
Snapchat: TribecaFilmFest
Hashtag: #Tribeca2017