In emotional service Jesuits and Georgetown repent for slavery
Daniel Burke, CNN Religion Editor | 4/18/2017, 6:03 p.m.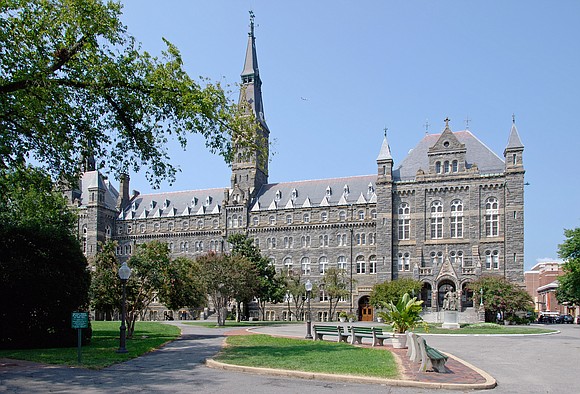 Later on Tuesday, Georgetown held a ceremony renaming campus buildings that once bore the names of Jesuits who supervised the sale of slaves. It will also host a private dialogue with descendants, Jesuits, and Georgetown representatives, and hold a "libation ritual" commemorating the 272 women, men and children sold in to slavery with soil from a former plantation in Louisiana.
In some ways, the ceremonies were the culmination of an effort begun in 2015, when DeGioia created a working group to study Georgetown's history of slavery. That process has included consultation with descendants, the creation of a Department of African-American Studies, new faculty, and the establishment of a research center focused on racial justice. Georgetown also offers a course examining the university's roots in the Jesuits' slave economy.
But several descendants said Tuesday's ceremonies marked a new beginning, not an end.
"Those were some very serious statements of remembrance and contrition," said Onita Estes-Hicks, whose great-grandparents, Nace and Biby Butler, were slaves sold by Georgetown. "I could see a lot of the descendants were in tears. This is all new territory. It's moving something around in American history, in family history and in ourselves. "
Like many of the descendants, Estes-Hicks and her ancestors maintained their Catholic faith, even after the Jesuits sold them. Several relatives are named Nace, a variation of Ignatius, as in Ignatius of Loyola, the founder of the Society of Jesus. Her father was a "rosary person," having been taught the ritual by his grandfather, who learned it from the Jesuits as as slave.
"We're tied to them by name, by rosaries and by religion," she said of the Jesuits.
She said it was especially shocking -- and angering -- to learn that Jesuit priests had sold her ancestors. "We went through a stage of denial that lasted for God knows how long."
As Estes-Hicks was leaving Healy Hall, she bumped into her Jesuit pastor, the Rev. Gregory Chisholm of the Church of St. Charles Borromeo in Harlem, New York.
"He's been helping me through this," Estes-Hicks said. "I went to see him two years ago," when Estes-Hicks and many other descendants learned about Georgetown's history, "and I said I'm really upset with these Jesuits."
Chisholm laughed loudly, and perhaps a bit nervously.
"What did you think, that I was going to start a fight or what?" Estes-Hickes asked with a smile.
"Well, I think you were on solid ground," said the Jesuit.