Add Linda Hopkins' voice to the angelic choir
Herb Boyd | 4/20/2017, 4:53 p.m.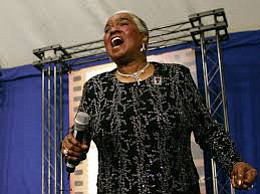 Never one to blow an opportunity, Hopkins made the most of her cameo appearance in "Purlie," Ossie Davis' musical starring Cleavon Little and Melba Moore, rocking the theater with her performance of "Walk Him Up the Stairs." The number was a showstopper, which led to a nearly yearlong tour with Sammy Davis Jr. (Too bad there's no YouTube video of her performance.)
Despite a trove of successes, Hopkins kept the influence of Bessie Smith on the backburner, and it came to the fore after "Purlie," and with Will Holt, she conceived and starred in "Me and Bessie." The world premiere was in the nation's capital in 1974, and eventually the show made its way to Broadway and 453 performances at the Ambassador Theatre. She was nominated for the Drama Desk Award for Unique Theatrical Experience.
In 1974, when not on Broadway, Hopkins was summoned for several film roles, including in "The Education of Sonny Carson," and in Clint Eastwood's "Honky Tonk Man," most memorably for her rendition of "When the Blues Come Around the Corner." She also had a small part in "Roots: The Next Generation" in 1979.
Her star was cast even higher in 1977 when she performed at President Jimmy Carter's inaugural ball.
When "Black and Blue" the musical opened on Broadway in 1989, Hopkins was back on the boards, and for 829 performances she wowed audiences, receiving a Tony Award nomination for Best Performance by an Actress in a Musical. Later, she was the principal writer of "Wild Woman Blues" that premiered in Berlin in 1997.
Much of her phenomenal career is highlighted in "Motherin' the Blues: Linda Hopkins—The Continuing Legacy of the Blues Woman," written by Erany Barrow-Pryor and published in 2005. In the fall of that same year, she received a star on the Hollywood Walk of Fame.
Hopkins told a reporter in 1969 that she only "sing songs where you can give vent to your feelings." She said, "When you're singing an anthem or hymns, you might cry or something, but that's all you're going to do. But when you're singing a gospel, giving that gospel beat, Christians can get up and dance, because there's dancing in heaven."
And that dancing is given a fresh burst of energy with the arrival of Hopkins' passionate intensity and vocal majesty.