United Women Firefighters and The Vulcan Society host firefighter-themed festival at St. Mary's Park
SHA-NIA ALSTON | 4/20/2017, 4:42 p.m.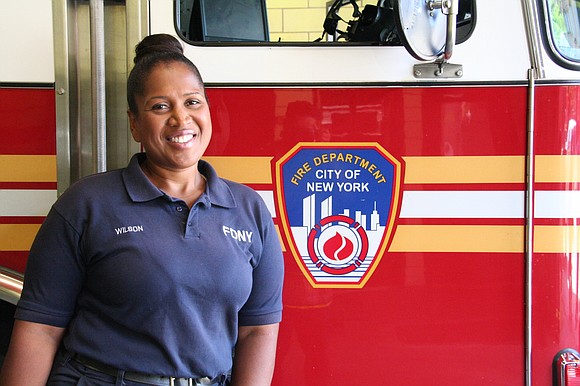 United Women Firefighters and The Vulcan Society Hosted a festival held at St. Mary's Park in the Bronx this past Saturday, April 8, in an effort to bring more diversity to the FDNY. Participants were able to file for the exam as well as participate in a 5K race called "Are You Brave Enough" that mimicked similar obstacles that firefighters face.
Sarinya Srisakul, president of the UWF, wanted to bring awareness to the exam opening as well as host an event to celebrate the first weekend of filing.
"We decided to do this because it was the first weekend of filing for the fire exam, and we wanted a real big event to kick off the first weekend. We thought why not throw a race of our own—it will just give people an idea of what we do," Srisakul said.
United Women Firefighters represents 57 women firefighters and women fire officers working for the FDNY. The Vulcan Society is an organization of Black Firefighters. It is open to active and retired members of EMS, Fire Inspectors and civilian personnel of the FDNY. These organizations work together to promote diversity in a profession where women only make up 0.5 percent of the force and African-Americans make up 7 percent.
During the festival, participants could file for the FDNY test. The test is open every four years. FDNY requires that test takers are between the ages of 17.5 and 28 years. However, age exemptions are offered for military vets.
Christian Holloway, a firefighter candidate, came out to meet fellow firefighters and to see what it would be like to be a firefighter. "I am actually running because I am a firefighter candidate and I want to see what it is like to go through some of these obstacles," Holloway said.
The race obstacles included window hurdles, dragging bodies, carrying fire hoses upstairs and a tunnel that simulated a dark fire. The festival was free to the public.
Festival activities also included CPR classes, fire safety demonstrations and a child obstacle course. Attendees were able to try on firefighting bunker gear and take pictures on an FDNY engine as well as operate a live hose.
Regina Wilson, president of the Vulcan Society, said, "The Vulcan Society wanted to help in the recruitment process and change the lack of diversity in the force.
"We are out here to encourage people, especially people of color, to apply. We think it's important to bring the fire department to the community because a lot of people don't know the exam is open."
For firefighter exam information, go to joinfdny.com.