Columbia lacrosse gaining respect
Lois Elfman | 4/21/2017, 3:56 p.m.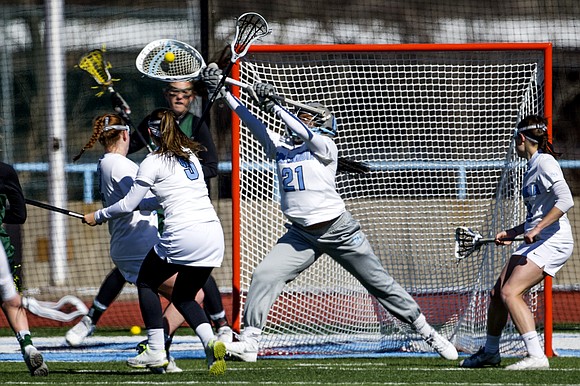 Lacrosse is a fast and furious sport, and Columbia University's women's team is picking up its pace. The team's goalkeeper, Kelsey Gedin, has played a big role in the team's growing presence.
Gedin discovered lacrosse in sixth grade when her school, Fredericksburg Academy in Virginia, offered it. Despite knowing nothing about the sport, she decided to give it a try. Although she had considerable success in high school, she wasn't recruited by Columbia but came to the team as a walk-on and earned her starting spot.
"I am from a very small town in Virginia, and I knew that Columbia would challenge me and push me to step outside of my comfort academically, and it has athletically as well," said Gedin, a junior at Columbia College majoring in political science and concentrating in psychology. "It's enhanced my experience. It's helped me with time management. Honestly, if I didn't have lacrosse, I don't know if I'd be this on top of my schoolwork. With lacrosse practice and a rigorous schedule, I know when I need to get things done.
"Also, a lot of the things you learn on the field about leadership and teamwork translate well off the field in the classroom," she added. "I am a lot more confident because of what I've learned through this sport."
Gedin was recently accepted into a prelaw program at St. John's University where she'll study this summer for the LSAT exam and receive guidance from St. John's law school professors. Having played on a team prepares her to work with a diverse range of people and scenarios.
Currently 7-6 overall and 2-3 in Ivy League play, the lacrosse team has achieved some historic firsts in 2017. The win over Yale April 8 was the first time the team has had two Ivy wins in a season. Wins over the next two opponents, Brown and Princeton, could earn Columbia its first trip to the Ivy League tournament.
Walking on and playing a team sport has created bonds that will last a lifetime. "One of the reasons I love being on this team so much is because we're a growing program and we've been proving every single year that we're a team that should be taken seriously," said Gedin.