Family, friendship, fashion the focus of Andre Leon Talley talk at BAM
NADINE MATTHEWS | 4/21/2017, 4:12 p.m.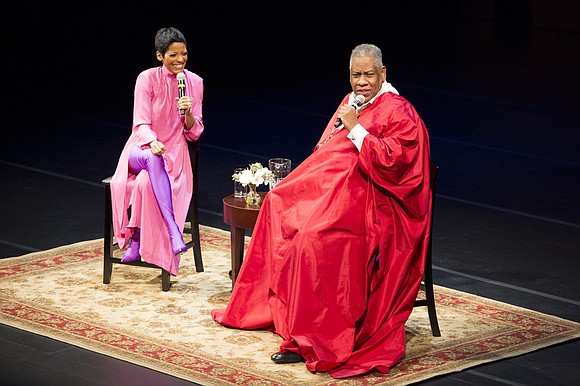 On a recent early spring evening at Brooklyn Academy of Music's Harvey Theater, journalist Tamron Hall, bedecked in light purple thigh high boots in honor of Prince, introduced iconic fashion editor Andre Leon Talley as a dear friend, describing him as, "A human being who is larger than life, like a Black superhero. He's fashion, elegant, intellectual, loving and when I got the chance to call him my friend, he truly lived up to all of that. He is one of the most amazing human beings to ever walk the planet." The warm friendship between the two was in evidence as Talley took the stage to talk about his experiences and observations as a veteran style-setter. Their laughter rang out as they recalled late night phone calls and emails dishing on celebrities, politics and, of course, clothes.
Talley, who currently has a show on Sirius, spent a great deal of time discussing his grandmother, who raised him in North Carolina while his parents continued to reside in Washington, D.C., where he was born. The 69-year-old Talley explained, "My mother and father took me down to North Carolina for Thanksgiving one year, and my grandmother, she said 'leave him here.' I grew up in my grandmother's house with my great-grandmother." The only child in the household, his grandmother spoiled him. "I was spoiled rotten; I could do whatever I wanted." For the family's elaborate Sunday dinners, his grandmother, who bought him his first pair of Christian Dior pajamas when he was a little boy, always made him his very own pan of homemade biscuits. Still, he describes his younger self as a loner. A status that led him to become a voracious reader of literature from an early age. It was at that time that he also began to revere the foremost fashion publication in the world, Vogue magazine.
Upon leaving home, Talley found a surrogate for his beloved blue-haired grandmother in the legendary editor of Vogue magazine Diana Vreeland. Soon after receiving his Masters in French Literature from Brown University, he began interning at the Metropolitan Museum of Art and caught the eye of Vreeland, who took him under her wing and assured him that she would help him "make it happen." He was soon working at Women's Wear Daily. Hall asked Talley to speculate as to what specifically Vreeland saw in him. He replied, "I was tall and perhaps handsome and because of my knowledge." He emphasized several times throughout the evening that it was his depth and breadth of knowledge of fashion and history that made him so valuable for so many years. "I feel that I am a custodian of the history of fashion. I know where the fashion comes from, I know who was Marie Antoinette's dressmaker. I know that Catherine the Empress of Russia has in the bottom of the Kremlin 5,000 dresses. I read all of Nancy Mitford's books on the French court, and I went to Russia four times and I went to the Kremlin and saw the great clothes. I saw carriages with diamond wheels that the Empress used to ride in." He gave Vreeland credit not only for helping him in his early stages in the industry but also for honing his sensibilities as someone whose life was about fashion. "Ms. Vreeland taught me how to see the luxury of clothes from the inside out. I watched Ms. Vreeland. How she approached clothes, how she looked at the clothes, how she brought the language of clothes alive. Clothes became a living thing when she talked about clothes."