Family, friendship, fashion the focus of Andre Leon Talley talk at BAM
NADINE MATTHEWS | 4/21/2017, 4:12 p.m.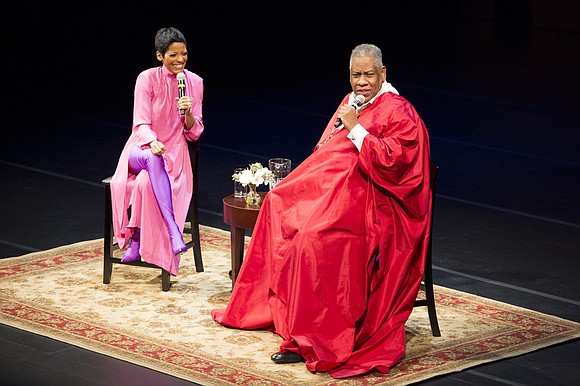 Talley pointed to Jackie Kennedy as a great fashion icon to Black women during her time at the White House mainly because of to their steadfast commitment to sartorial excellence on Sundays. "I remember how important Jackie Kennedy was. She was very important to African-American women because church-going women loved that she wore the
pillbox hat and her chain bag and gloves. So Mrs. Kennedy was a great inspiration for the three years she was in the White House. Everyone tried to copy the Jackie Kennedy look on their budget." He also expressed enormous admiration for one of America's first Black supermodels, Naomi Sims. "Naomi Sims was my big inspiration. I was very much with Naomi Sims and we became friends and I was very privileged to speak at her funeral." On a more contemporary note, he praised First Lady Michelle Obama's sense of style. "You didn't have to tell Michelle Obama anything. She knew what she was doing. She didn't need my advice. She had it all before she even went to the White House." He later named Beyoncé and Rihanna as two women who are currently at the pinnacle of fashion.
Hall implored a somewhat reluctant Talley to let the audience know how much of an advocate he was for the use of models of color, saying, "You were not on TV screaming 'injustice, injustice,' but what people don't realize is that behind the scenes you were telling these magazines and fashion designers that you have to have a diverse look." Talley replied that after seeing the film "Dreamgirls," starring Beyoncé, Jennifer Hudson and Anika Noni Rose, 10 times and registering the enthusiasm of the crowds for Hudson's performance, he realized she was going to be a winner during that year's award season. "I began to gently nudge, and I kept nudging, nudging and I kept sending emails to Ms. Wintour saying this was going to be an extraordinary moment for Jennifer Hudson." Hudson indeed went on to win the Golden Globe, Oscar, BAFTA and SAG award for her role as Effie White. Hudson graced the cover of Vogue magazine the following March, the first African-American singer to do
so in the magazine's history.