Book Review: 'Millionaire Moves,' by Dr. William F. Pickard
Herb Boyd | 4/27/2017, 2:09 p.m.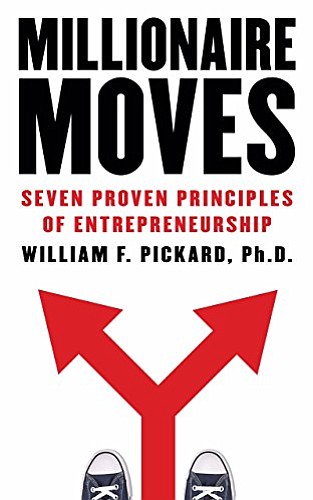 Dr. William F. Pickard, in the Introduction to his book "Millionaire Moves—Seven Proven Principles of Entrepreneurship" (Real Times Media, 2016), offers this caveat and promise: "There is a surplus of inspirational, how-to-be-a-winner books on the market, and they all claim to have answers. But the one you're holding in your hands right now is written by someone who knows the proverbial ropes and has taken the risks. I have the balance sheet and the net worth to prove it."
Through his seven principles and nearly 200 pages, to say nothing of his impressive resume, Pickard backs up his words. Let's take a quick look at his balance sheet and net worth: As chairman of Global Automotive Alliance, a leading minority-owned company that supplies plastic parts to the nation's top three automakers, in 2014 the alliance had sales of $475 million.
Moreover, he is a co-managing partner of MGM Grand Detroit Casino, a CEO of Bearwood Management Company and co-owner of five Black-owned newspapers. Pickard's academic and board memberships are equally awesome, including an appointment by President George Bush to the National Advisory Committee on Trade Policy Negotiations.
Much of his success is recounted in the book, perhaps none more instructive than his ownership of McDonald's franchises and the subsequent business lessons. With two partners, Pickard was among the first African-Americans to own a McDonald's or "Mickey D's" in the U.S.
Typical of his willingness to be absolutely forthcoming, Pickard said his venture with McDonald's resulted from Black activists who began a series of protests and boycotts against the company without a Black-owned franchise. The boycotts were the opening the enterprising young man needed to begin his journey toward economic and financial independence.
This incident was just one of several political opportunities that Pickard would seize on, and as the subtitle of his book notes, always accompanied by his seven principles, which he summarizes this way: "I maintained the vision and belief in the possibility of a Black franchise owner (Principle One), worked diligently and took advantage of opportunities (Principle Two), understood the importance of finance (Principle Three), developed relationships (Principle Four), sought out talent (Principle Five), prepared for failure (Principle Six), and had unswerving faith (Principle Seven) in things working out for the higher good of
our community."
These principles, which are greatly annotated, comprise the bulk of the book, and interwoven throughout are a bounty of aphorisms to highlight his advice, such as "keep your eyes on the prize," "wealthy people teach their children how to acquire, rich people teach their children how to sell and poor people teach their children how to buy." His seven principles reminded me of Dr. Maulana Karenga's Nguzo Saba, particularly "faith" or Imani, the one they have in common.
Along with the aphorisms, as expected, Pickard cites the accomplishments of such notables as Madam C.J. Walker, Berry Gordy, Mary McLeod Bethune, Reginald Lewis, John Johnson and even Pig Foot Mary, probably the least known of the significant individuals. Each of them, in his or her singular determination, presents a useful example for Pickard to drive home a point toward success and betterment.
He doesn't recall too much about his teaching tenure at Wayne State University, and this mention gives me the moment I need for complete disclosure because Pickard was instrumental in my receiving a faculty research grant back in the early '70s. The grant provided the means for me to travel across Africa and the Caribbean to assess the strengths and weaknesses of various liberation movements.
Although I am eternally grateful for his recommendation "back in the day," readers, especially those with entrepreneurial dreams, will be the beneficiaries of his wise counsel in "Millionaire Moves." In his section on vision and attitude, Pickard states that knowledge is power. "Read publications like The Wall Street Journal, The New York Times, the Entrepreneur, Black Enterprise, and The Washington Post," he advises.
You should also read "Millionaire Moves," and any one of the newspapers he co-owns, including the Michigan Chronicle.
Pickard will be speaking Friday, April 28, 6 p.m. at the Schomburg Center.