Children's Cupcake City Socialite at Queens Museum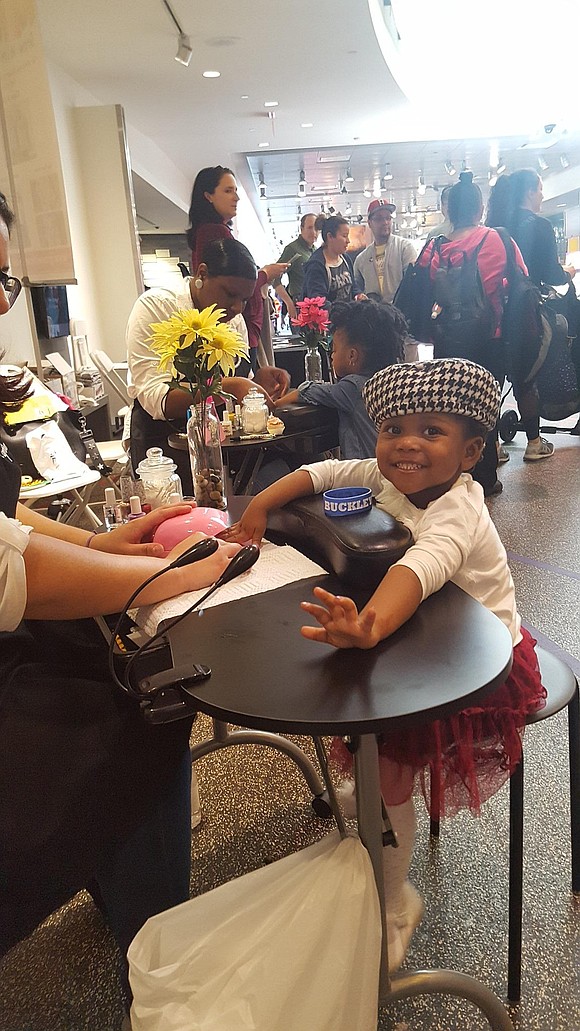 Celebrating Earth Day in Flushing, N.Y., the Queens Museum held a series of events that included the Mamas Expo, which featured vendors throughout the Queens Museum specializing in products and services geared toward parents and children, and many women-owned businesses were represented. One of the main attractions was the Cupcake City Socialite, a mobile beauty boutique and children's spa. The youngsters, some even toddlers, were thrilled to have their nails painted and get their makeup done.
The Mamas Expo is a family event that celebrates parenting culture in New York City and beyond. The museum's goal is to highlight resources for local parents and children ages 1 and older. The expo provided parents in the area with more information and family fun activities, from finding new local classes and schools to the best innovative products and retail stores. Expo goers received an exclusive look at all new available resources that keep them informed as parents.
Krystole Mack, founder and owner of Cupcake City Socialite, has always had a passion for everything innovative and imaginative. Born in the Bronx, she spent her childhood sketching fashion designs, styling her dolls and engaging in arts and crafts. She attended the University of the District of Columbia, majoring in Fashion Merchandising. She later opened Nmieko's Closet, an online children's boutique that focused on "Funky Fun Fashion." Mack has sold one-of-a-kind trendsetting pieces all over the U.S.
At Cupcake City Socialite, there were beauty services for every child in attendance. This boutique spa is also a great way to teach kids how to care for themselves and how to have fun while creating a beautiful image. The activities also instill confidence. Working in the children's apparel market, Mack wanted to develop a brand that allowed her to interact with her favorite clientele, youngsters. In January 2017, she created Cupcake City Socialite, a mobile boutique children's spa. It's a hit. Kids love it. Currently, she is servicing Washington, D.C., and she plans to hold larger parties in the New York City area. Mack is laying the groundwork to expand the brand to different regions of the East Coast and eventually venture out west.
Cupcake City Socialite is already a favorite of "Mommy & Me" groups in Riverdale, N.Y., and in Montgomery and Fairfax counties in the Washington D.C. Metropolitan area. Mack is looking forward to having Cupcake City Socialite listed as one of the top 10 things to do with kids in the city very soon.