Fire tragedy hits Queens families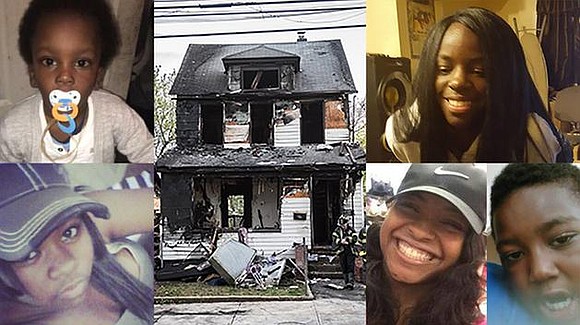 "Please take care of your kids," said grieving mother Dajuana Green. Family members, firefighters and residents were left devastated Sunday when fire ripped through a wood framed house at 2:36 p.m. April 23, leaving four children and teens and one adult dead. The scene on 208th Street, between 112th and 113th avenues in Queens Village, was both chaotic and heartbreaking as family members came to the scene to learn the news. Even seasoned emergency responders reacted emotionally to the biggest loss of life since a March 2015 fire claimed seven Brooklyn siblings.
Sunday, on the residential street in Queens, the screams of anguish and disbelief were piercing.
Fire Commissioner Daniel Nigro revealed that four of the five victims were related, and the fifth victim was a friend of the other four. The NYPD identified those who perished as Destiny Dones, 20; Melody Edwards, 17; Jada Foxworth, 16; Rashawn Matthews, 10; and Chayce Lipford, 2.
Officials said that Dones and Matthews were pronounced dead at the scene. Edwards, Foxworth and Lipford were rushed to Jamaica Hospital and Long Island Jewish Medical Center, where they died.
Returning to the horrific scene one day later, a devastated Green told Channel 7 Eyewitness News that she "lost her son Rayshawn, her grandson Chayse and two cousins who she considered daughters."
"Please take care of your kids," she said. "Make sure your house has smoke alarms. Make sure they're working. That's what I was going to do. I was going to get smoke alarms, because my smoke alarms stopped working. So I was going to get brand-new ones and bring them back and put them up when I come in from work. I just want everyone to make sure they take care of their kids and make sure all their smoke alarms are working. Even the carbon monoxide."
"Our city is in mourning today as we remember the victims of the tragic fire that took place in a Queens Village home yesterday afternoon," said City Council Member I. Daneek Miller (D-St. Albans) Monday.  "Five precious young lives are suddenly no longer with us, and their families and friends must now summon the courage to face this painful reality."
Firefighter Khalid Baylor, first vice president of Vulcan Society, the Black firefighter affinity organization, was present on the scene Sunday. He told the Amsterdam News, "Whenever there is a loss of life, especially children, it hits home. It is very tragic. These are experiences that you never want to have, even the most experienced firefighters, who have seen a lot, are always very touched by scenes like this."
The police department told the Amsterdam News, "Victim number 6, a male, was able to escape the location and was removed by EMS to Queens General Hospital, where he is expected to survive."
Witnesses said that they saw Maurice Matthews, 46, climbing out of a second-floor window, and then as he held his head, talking about the trapped children, who some said were at the windows. Reportedly, he is the grandfather of Rayshawn and Chayse.