Fire tragedy hits Queens families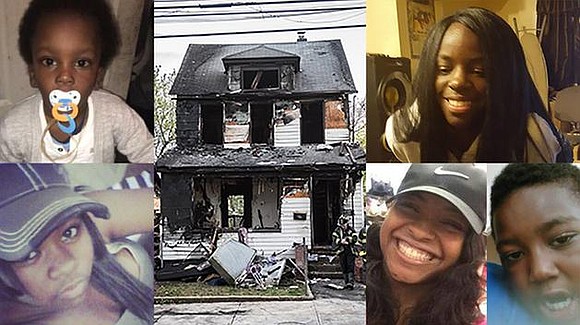 Witnesses said attempts were made to enter the burning home, but the flames were so intense rescuers could not enter as black smoke filled the air.
Zedias Mudzim was driving by when he saw the house in flames and called 911. He said, "I pulled over, and then I see a guy on the roof saying 'Help! Help!' and then I called 911, and then the guy jumped ... All he said was, 'That's my grandson! That's my grandson!' That's all I heard."
Nigro said, "This fire moved so quickly." He added that trying to knock down the second alarm blaze had firefighters making "a very daring and valiant push into that building to try and save the residents." He continued, "They knew there were people inside, and we know that the firefighters on the scene did all that they could and more to try and save these children. Unfortunately, all of the people the firefighters were able to bring out perished."
Published and broadcast reports state that there were no working smoke detectors in the home.
As the investigation continued among the charred ruins, authorities had not released the cause of the fire by Amsterdam News press time.
One report noted that a car outside the house was burnt out and a possible cause.
Police said, "No arrests have been made and the investigation is ongoing."
Mayor Bill de Blasio told the press, "Our hearts go out to this family. I'm asking all New Yorkers to keep this family in your prayers."
Tweeting, the mayor said, "Our job now is to get down to the bottom of what happened and do everything we can to make sure that no family ever suffers like this again."
Funeral arrangements have been announced for all the deceased.
Extended family members Chayse, Rayshawn, Jada and Destiny will have a wake and funeral Saturday, May 6, in one service at New Greater Bethel Ministries on Jamaica Avenue. At press time the funeral arrangements for Melody had not yet been announced.
Miller said in a statement, "As the details of this devastating event emerge, I encourage all of my constituents to, first and foremost, hug your loved ones a little tighter today, and then have a frank conversation with them about fire safety procedures. My office will work with the Fire Department and the Red Cross to share educational information to everyone in our district through door to door outreach, email and social media communications, and an upcoming community town hall."
Baylor said, "Smoke detectors and carbon dioxide detectors are a small investment for the protection of life. As a parent I make sure that I have multiple smoke detectors in my house. My condolences go out to this family, the community and the neighborhood. Some of the members of the Vulcan Society reside in the area. we feel it for everyone who suffered this loss."
A GoFundMe page has been set up to raise money for the families.